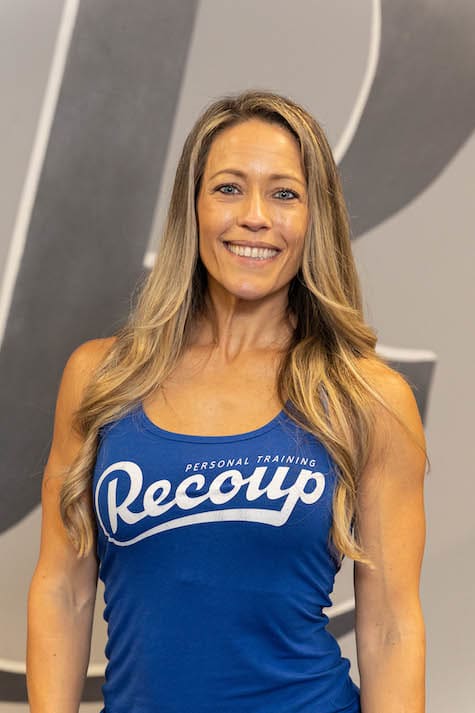 Bo Wind
Hi I am Bo - one of the dynamic trio behind Recoup Personal Training!
As a devoted working mom to a beautiful little boy - Koa - I know firsthand the importance of balancing life's demands while prioritizing health and wellness.
My lifelong passion for sports and being part of a team led me to excel in tennis from a young age, until a shoulder injury at the age of 21 changed my path.
During my recovery journey, I discovered the transformative power of strength training, thanks to an incredible man named Soenil - who was a skilled bodybuilder. I met him at the local gym where I started doing my physical therapy exercises for my shoulder. Our friendship bloomed, and I delved deep into the world of strength training, transitioning from national-level tennis competitions to competitions in the dynamic world of fitness. In 5 years, I competed in 5 different fitness shows where I either placed 1st or 2nd.
In addition to my incredible journey in fitness, my story took an exciting turn when I met Kees (my now husband), at the same gym where I discovered my passion for strength training.
In 2016, when Kees received a job offer in California, I embraced the opportunity for a new adventure. Kees and I sold the house and set our sights on the United States, ready to embark on a new chapter in our lives.
Upon arriving in California, I decided to follow my heart and left the corporate world. I was excited to explore new possibilities and make a difference in the health and fitness world. Filled with knowledge and experience, and driven by a desire to empower others, I started to apply for jobs within the fitness industry. That's when I met Mattison and Stevie, two incredible individuals with whom I became lifelong friends and essential partners in building the vision of Recoup Personal Training.
After working together at another personal training studio for 3 years, we poured our passion and expertise into creating a supportive environment that embodies fitness, connection, and the empowerment to embrace sustainable health, confidence, and pain free movement.
My heart's calling was to create a space, a second home, where men and women could feel truly confident in their own skin – a vision that became a reality with the founding of Recoup Personal Training.
It's been an incredible journey so far to say the least. It means the world to me seeing everyone's physical and mental transformations, and how they excel in their lives.
As a mom and busy professional myself, I know how challenging it can be to keep up with your fitness goals while juggling being a mom, wife, and life duties alongside personal health and fitness - but it is not impossible and many of our Recoup family members are proof of that!
Want to get to know me better? Here are some quick fun facts!
1) I love chocolate everything (yes trainers and nutrition coaches eat chocolate ;-) ). My favorite is the chocolate covered almonds from See's Candies.
2) I was born and raised in The Netherlands and moved to Orange County in 2016 together with my husband. We absolutely love it over here!
3) I have a dog called Bailey (who is the most active and cutest dog).
4) Some of my favorite ways to organically obtain an active life, besides lifting and exercising in the gym (obviously ;-) ) are walks with my 2.5 year old son and dog, bike rides with my amazing husband and finding any reason to get my steps in in sunshine.