If you've been making recipes the same way for years, it can be hard to break old habits.
We know, we know…it's not like your mom used to make it. But we promise that making swaps for healthier alternatives will pay off in the long run. We don't expect you to make drastic changes to your diet overnight—it's all about single substitutions over time that will make all the difference!
So, without further ado, here is our master list of ingredient swaps that you can make for a healthier you!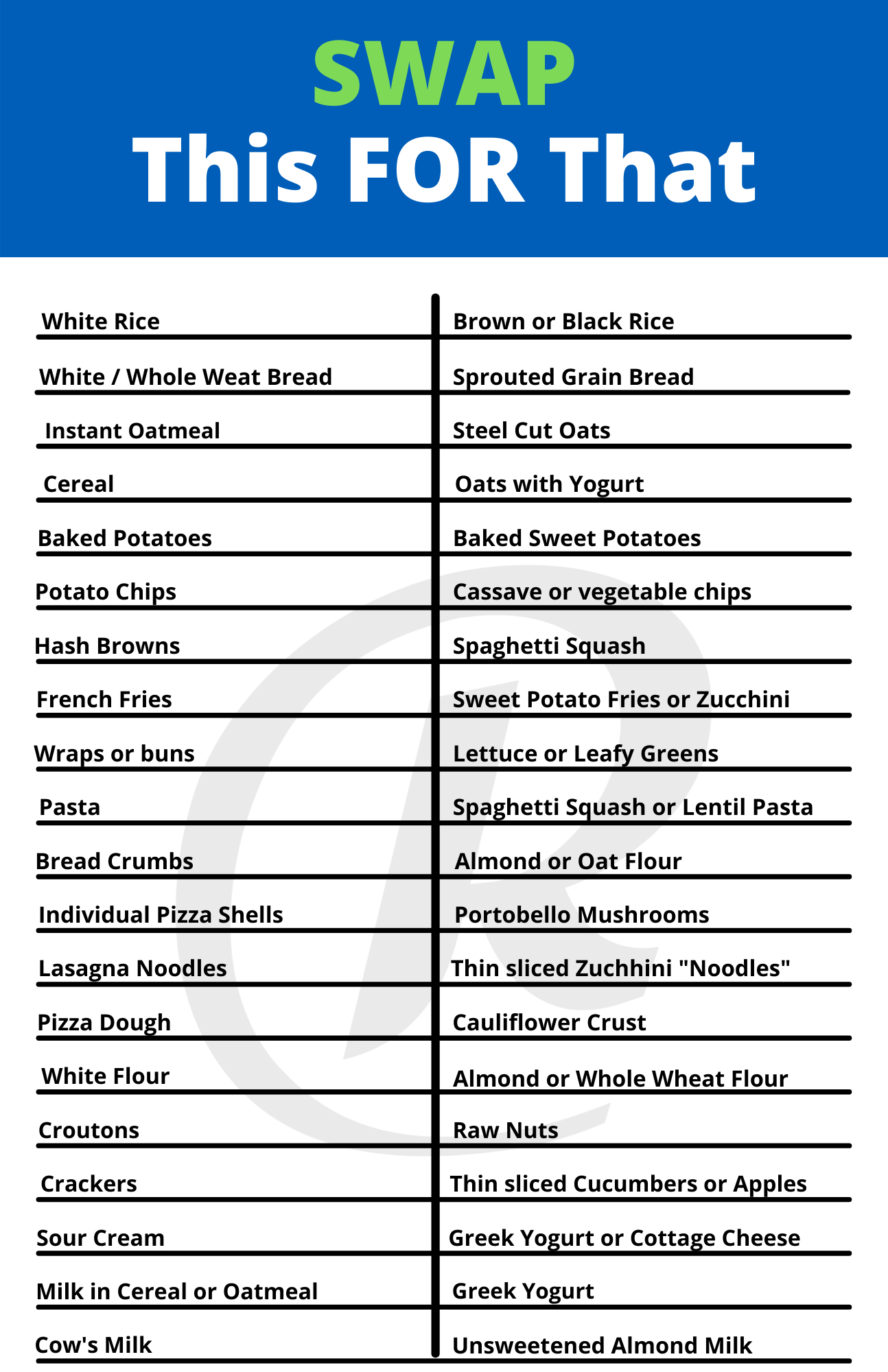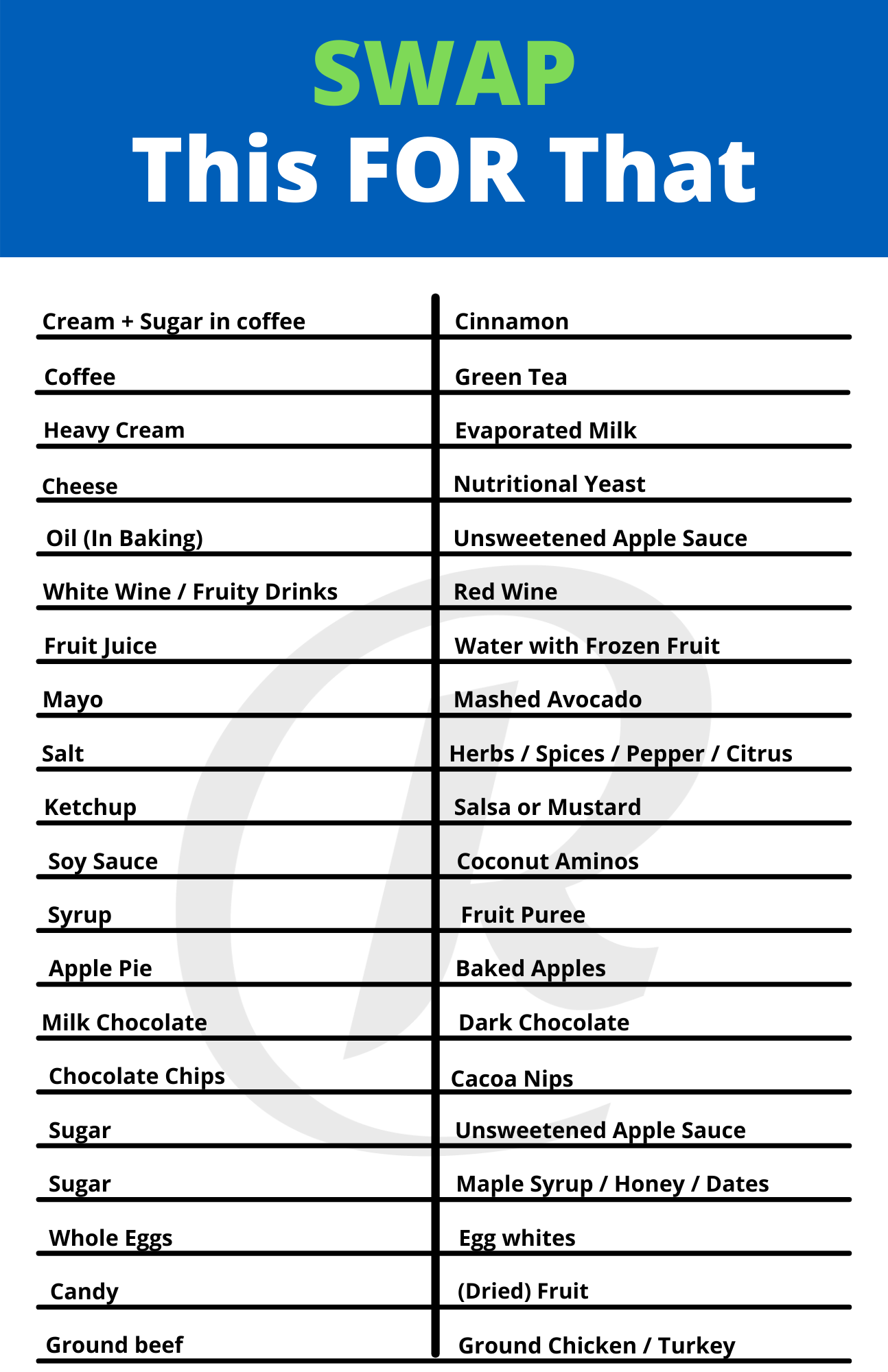 For best results, print this list off and hang it on your fridge! Then, next time you're making one of your fav recipes, see if you can find an ingredient to swap on the list!
If you don't have any recipes in mind right now, no worries! We've picked out a couple of drool-worthy recipes for you to try!
Banilla Walnut Muffins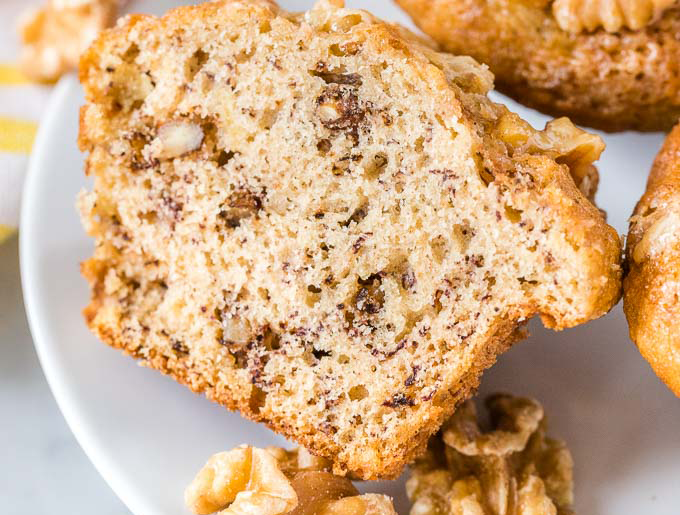 Ingredients:
1 1/3 cup White Whole Wheat Flour
1/2 tsp. Salt
1 tsp. Baking Soda
1/4 tsp. Baking Powder
1/4 cup Avocado Oil
1/4 cup Splenda Sugar Blend or
1/2 cup Granulated Sugar
1/2 cup Egg Beaters
1 cup Dannon® Fit -n- Light
Vanilla Yogurt (not Greek)
1 Ripe 6" Banana
3 Tbsp. Flaxseed Meal
1/2 cup Walnuts, toasted, chopped
Avocado Oil Spray or Paper Muffin cups
Directions: Pre heat oven to 350°F. Lightly spray a 12-cup muffin tin, or add paper muffin cups; set aside
Step 1: In a medium bowl, combine flour and next 3 ingredients, (thru baking powder). Use a whisk to blend; set aside.
Step 2: In another medium bowl, using an electric beater or whisk, whip oil and Splenda on high for about 2 minutes. Gradually incorporate mixture of dry ingredients, beating well after each addition. The mixture will look dry and crumbly; set aside.
Step 3: Using original dry ingredients bowl, blend with an electric beater or whisk remaining 4 ingredients (thru walnuts) until smooth. Add reserved batter and mix until totally combined. Do not overmix. Using a bakers scoop or measuring cup, divide mixture up into your muffin cups. Bake for 18 – 20 minutes, or until light golden and slightly firm to the touch.
Blackened Soft Chicken Tacos & Grilled Avocado Slices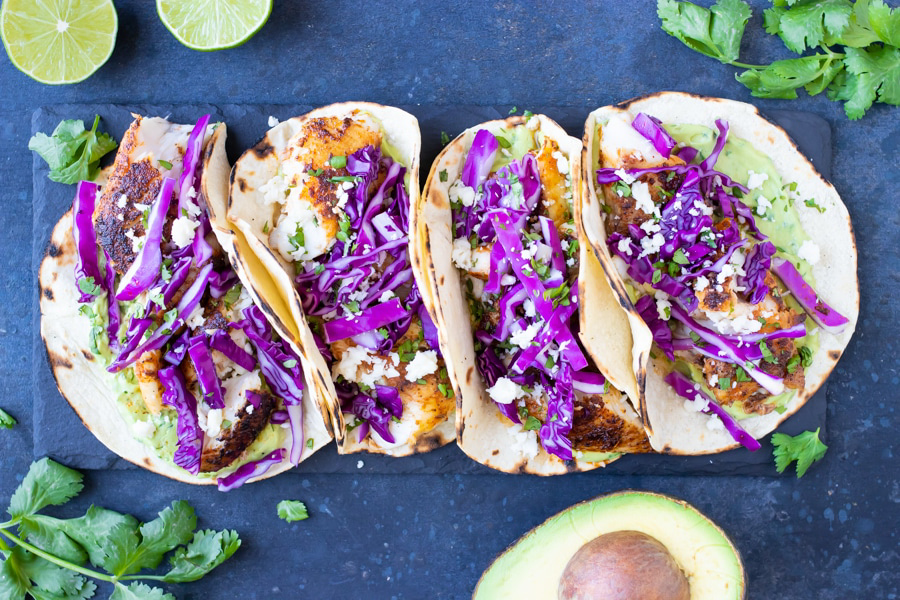 Ingredients
4 (6 oz.) bone/skin-less Chicken Breasts
Generous shakes of a Low Sodium Fajita Seasoning
1 Tbsp. Fresh Lime Juice
1 ripened peeled Avocado, cut into 16 slices
Avocado Oil cooking spray
8 (6 inch) Whole Wheat Low-Carb Tortillas
2 cups Shredded Cabbage
1 cup Fresh Salsa
1/4 cup Sweet Onion, chopped
1/4 cup Cilantro, roughly chopped
Step 3:
Using the same grill pan, re-coat with cooking spray and place over high heat. Don't add the chicken until the pan is hot. Cook the chicken breasts about 4 minutes
IF thin cut. If not, about 6 min.
per side or until no longer pink. Let chicken stand about 5 – 10 minutes; cut into about 1/4 inch slices.
Weigh after cooking.
Step 4:
Warm the tortillas that you plan to use. Place weighed portion of chicken into a tortilla, top with slices of avocado, cabbage, salsa, onion and cilantro. Yummy!
______________________________________________________
Are you constantly leaving meals to the last minute and choosing convenience over nutrition? We totally get you. Life gets busy! But we're here to help.
We can help you meal plan for you and your family — we find little changes that can make a BIG difference! If your nutrition is something you struggle with, then reach out to us today and see how we can help you!
Mattison, Stevie and Bo