St. Patrick's Day is tomorrow and we were sitting here thinking about mixing it up with some different but great Green Recipes! How do you say "Bon Appetit" in Gaelic?
Power Green Smoothie

This quick breakfast is a variation of our favorite RECOUP Super Charge Smoothie. It's combination of fruits and veggies, that is perfect for any taste bud! Remember Popeye pouring a can of spinach into his mouth before he flexed his muscles? Well, we daresay, he would love this smoothie, and so will you! The thing is, you really don't taste the spinach! Sweet mango takes over for this frosty tropical green smoothie that is so good for you.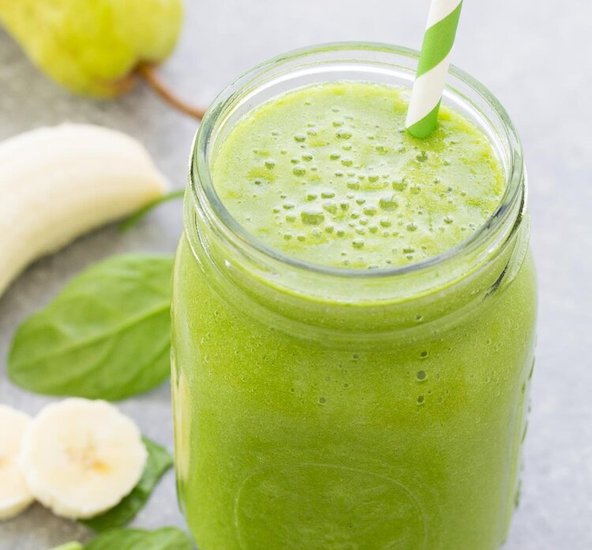 Ingredients:

1/2 Banana

1 Cup of fresh baby spinach

1/2 Cup frozen mango chunks

1/2 Green apple

1/2 Cucumber

2 Tbsp. Flax seed

How to make your green smoothie:

In about 10 minutes, you can prepare four servings of this healthy green smoothie recipe, and all portions will last in the fridge up to 4-5 days!
Grab the frozen mango chunks out of your freezer

Core and slice the apple

Slice the cucumber

Put all the ingredients in a blender and blend (you may want to use a bit of water too)

Divide into four containers (we like mason jars because they seal well)
Simple & Delicious Chicken Cobb Mason Jar Salad

Taking your lunch to work is an easy way to save money and enjoy a healthy midday meal that is sure to satisfy. This delicious Mason Jar Salad recipe is super simple to prepare!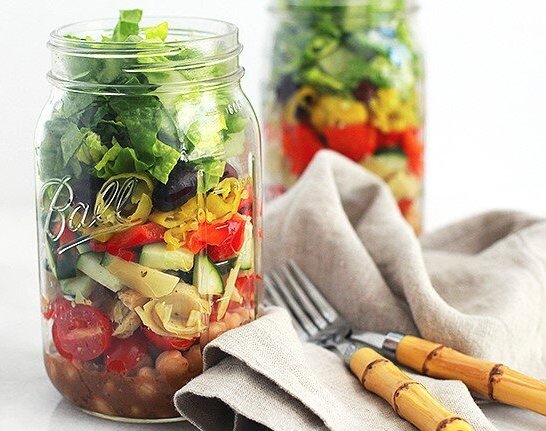 Ingredients (serving 2 salads):
2 boneless, skinless chicken breasts, trimmed and cut into bite-size pieces

1/8 tsp ground black pepper

1/4 tsp sea salt

1 tbsp olive oil

1 cup grape tomatoes, whole

1 cucumber, peeled and diced

1/4 cup garbanzo beans, drained

2 tbsp. Crumbled Gorgonzola

3 cups mixed baby greens, slightly packed
For the clean Ranch dressing:
1/2 cup plain full fat Greek yogurt

1/4 cup unsweetened almond milk

1 tbsp apple cider vinegar

1/4 tsp dried dill weed

1/4 tsp garlic powder

1/4 tsp sea salt
Directions
Season the chicken breast with sea salt, black pepper, and garlic powder.

Heat olive oil in a skillet over medium-high heat.

Once hot, add the chicken and cook until well-browned on all sides and cooked through, about 4-6 minutes per side.

Once the chicken is cooked through, remove from the pan. Dice into bite-size pieces and allow to completely cool.

To make the clean ranch salad dressing, whisk together the plain greek yogurt, almond milk, apple cider vinegar, dill weed, remaining garlic powder, coconut sugar, and 1/4 tsp. sea salt. Then, set aside.

Using a quart size mason jar, layer about 2-4 tbsp. of our salad dressing, followed by the grape tomatoes, diced chicken, garbanzo beans, diced cucumber, crumbled gorgonzola cheese, and baby spring mix lettuce.

When you're ready to serve, you can also add an avocado or hard-boiled egg, too!

Can be sealed in mason jar and stored in the fridge for up to 5 days.
Tips for layering the Mason Jars:

For maximum freshness, stack your salad ingredients in the following order:

Layer 1 – Add the ranch dressing first (1-2 tablespoons should be enough)
Layer 2 – Then layer the harder ingredients like your grape tomatoes and diced chicken
Layer 3 – Add garbanzo beans. FYI, if you're planning to add any carbs or grains, like pasta or quinoa, we would suggest you leave those for the third layer too
Layer 4 – Add softer vegetables like your cucumbers
Layer 5 – Reserve your cheeses and other proteins for this layer
Layer 6 – Then top it all off with some baby greens like lettuce or spinach

You can use this layering technique for any salad! So quick recap: add your salad dressing to the bottom, then heartier ingredients, then crunchier veggies, protein, and top it off with lettuce. This will ensure a barrier, keeping the dressing away from anything that may wilt, and will give your starchy elements a little extra time to soak up some flavor from the dressing. Then, all you have to do is shake, take of the lid, and enjoy!

Our client Betsy is a working mom and loves to make this recipe. She even prepares four a time to save her time during her busy work week! Great Job Betsy, and thank you for sharing this picture with us!

Lemon Chicken with Spinach
This simple, super quick chicken dinner - packed with spinach and peppers - is simply delicious! Its already great on its own, but we like to serve it over brown rice or quinoa :-)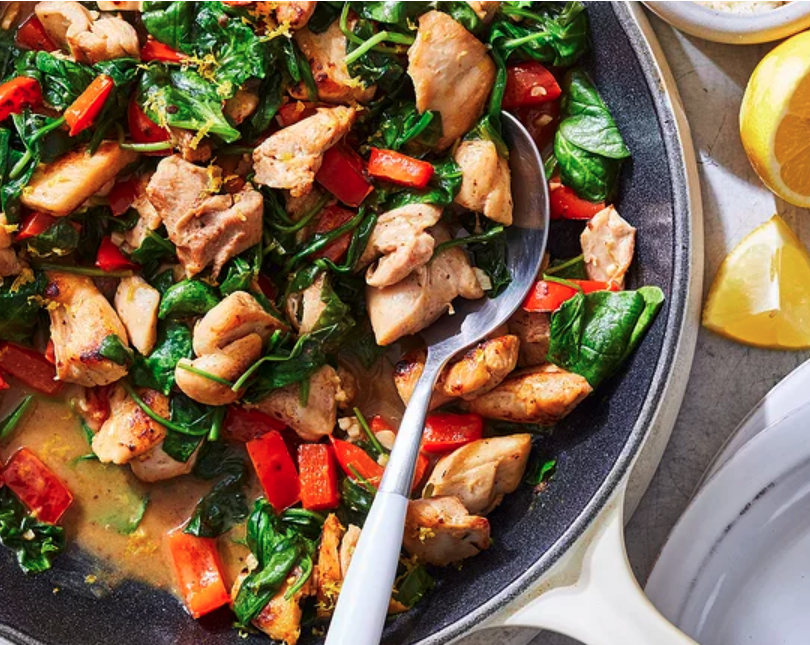 Ingredients:
2 Tbsp. Extra virgin olive oil

1 lbs boneless, skinless chicken breasts, trimmed and cut into bite-size pieces

1 Cup diced red bell pepper

1/2 tsp. Salt and ground pepper

2 Cloves Garlic, minced

1 tsp. corn starch

1 medium lemon, zested and juiced

Baby spinach (as much as you like!)

8 tsp. Parmesan cheese
Directions:
Heat oil in a large skillet over medium-high heat.

Add chicken, bell pepper, salt and pepper; cook, stirring occasionally, until the chicken is just cooked through.

Add garlic and cook, stirring, until fragrant. Add to cornstarch to the pan along with the lemon juice and zest; stir to coat, then bring to a simmer.

Add spinach by the handful; cook, stirring, until wilted, about 2 minutes more.

Serve sprinkled with Parmesan and enjoy!