One of the best ways to ensure success in your fitness and in achieving a lean, healthy body is to plan your meals!

To give you a taste of our Balanced Habits 28 Day KICKSTART & LIFE programs, we put together some of our KICKSTARTER's favorite recipes for you!

Give these amazing recipes a try and let us know what your favorite is!

(When on your phone, simply screen shot or when on a computer just click the right mouse button and hit save to save the recipes!)

If you are just like Ashley and would benefit from a personal plan and support to achieve your health & fitness goals, simply call us or send us a message to 714.262.4003 and let us know so we can be in touch with you right away.

Matt, Stevie & Bo

Owners & Coaches of RECOUP Personal Training

info@recouppersonaltraining.com

714.262.4003
Chocolate Brownie Smoothie
Protein smoothies can serve as a great breakfast and are an effective way to make sure you're getting enough of this important macro nutrient.
Our bodies need protein for healthy skin, hair, bones, and heart. Plus, a protein-packed breakfast can prevent overeating.
Tip: There are a lot of options out there. When choosing a protein powder, make sure to choose low-carb protein powder and not a meal replacement powder.
And now, bottoms up with some protein deliciousness.
Ingredients
Ice
Frozen Banana
Brewed Strong Coffee or Espresso
NAS Vanilla Almond Milk
Pure Vanilla Extract
Chocolate Protein Powder
Unsweetened Cocoa Powder
Kosher Salt
Toasted Walnut Halves (the nut highest in antioxidants!)
Directions
Place ingredients in a blender in the order listed; blend until creamy.
Amount of ice and choice of liquids depends on your preference for taste and consistency.
Enjoy the toasted walnuts separately. Make it your own!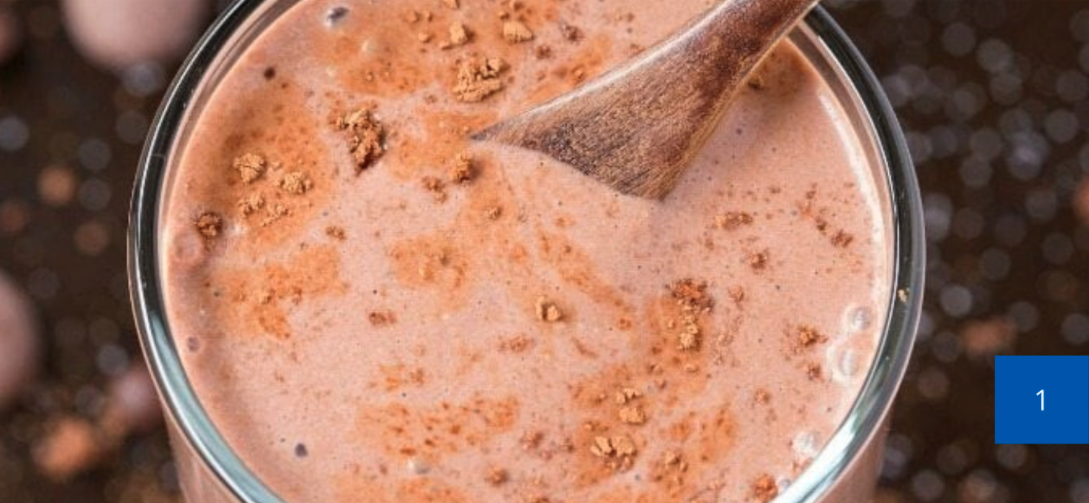 RECOUP'S Super Charged Green Smoothie
This incredibly micronutrient-dense green smoothie is our go-to drink literally every single day of the week! It will give you a ton of energy as well as most of the vitamins, minerals, essential fatty acids, and fiber you need for the day.
Sometimes we will put less flax milk in it and eat it like a soup. It is a great snack to bring with you to work or keep on hand at home. As an optional ingredient to give your smoothie an extra nutritional boost, add in a tall shot glass of flaxseed! Make sure you blend well in a high-speed blender to get it as smooth as possible.
Ingredients
3 cups Unsweetened flax milk (or almond milk)
8 oz Kale (washed)
7 oz Rainbow chard (washed)
3 oz Baby spinach (washed)
2 Carrots (cut into bite-sized pieces)
1 Tomato (diced)
1 Avocado
1 Banana
1 Apple (cut into bite-sized pieces)
5.3 oz Blueberries (fresh or frozen)
Directions
Remove stems from kale leaves and add all ingredients to a large high-powered blender, placing softer ingredients and liquid down the bottom near the blades.
Blend all ingredients until smooth and enjoy!
If it is too much for you to drink in one sitting, put the leftovers in the fridge and enjoy later in the day.
Tasty Chicken Salad
We love great lunch and picnic options! This Tasty Chicken Salad is the PERFECT combo of seasoned chicken breast, creamy mayonnaise, lemon juice and crunchy celery, ready in just minutes!
Ingredients (serves up to 4 people)

1 1/2 lb boneless, skinless chicken breasts diced into bit-sized chunks

1/2 cup Olive Oil Mayo

1/2 cup Non-Fat Plain Yoghurt

1/2 cup Almond Slivers

3/4 cup Purple or Green Seedless Grapes, quartered

2 stalks Celery, Thinly Diced

Generous Shakes Morton's - Nature's Seasoning, until you like the flavor

Directions
Rub the raw chicken breasts with Morton's - Nature's Seasoning and grill until tender. Cool for at least 20 - 30 minutes.

Prepare the rest of the ingredients as directed while the cooling takes place.

Dice the chicken on a cutting board into bit-sized chunks.

Place chicken into a large bowl and add the above ingredients to the bowl and blend all together with a spatula or wooden spoon. If it seems too dry, add more yogurt.

Cover the bowl and place in the refrigerator for at least two hours before you are going to use the salad.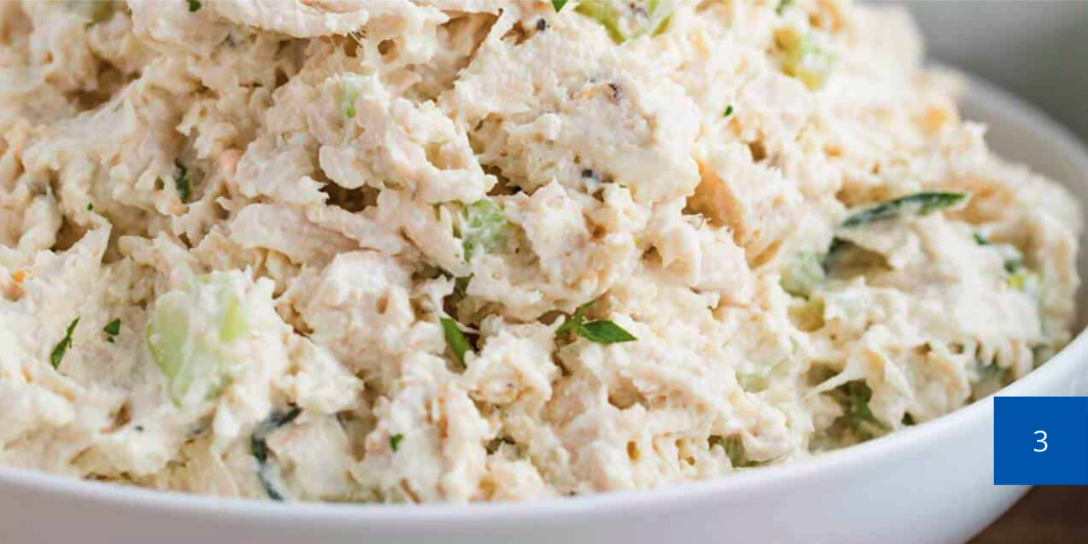 Spaghetti Squash
Squash is a fantastic nutritious and low carb option if you are craving noodles! It is also a really easy option for making noodles from vegetables. This recipe is our favorite pasta substitute!
Tip: If you're missing the cheese traditionally served on top of spaghetti, try sprinkling some nutritional yeast flakes over the top. It is incredibly nutritious and has a cheesy flavour to it.
Ingredients (serves up to 4 people)
1.2 lb Ground beef (beef mince)
15 oz Canned crushed tomatoes
1 tsp Italian herbs
1 Spaghetti squash
1 Onion (diced)
3 tsp Garlic (minced)
Directions
Preheat oven to 400ºF/200ºC.
Using a sharp knife, slowly cut the spaghetti squash lengthwise. They can be a bit tough to cut so be sure to work carefully.
Scoop out the seeds and stringy bits of flesh with a spoon, but don't dig into the flesh as this is what will become the 'spaghetti'.
Place the squash halves face down in a roasting pan, and pour in a little bit of water to just cover the bottom.
Cook the squash for 30-45 minutes. The larger the squash, the longer it will take.
When the squash is ready, it will be easily pierced with a fork right through to the peel and you will notice that the flesh separates into strands. Use a fork to gently pull the flesh from the peel and separate into strands. It works best when you rake the fork horizontally.
While the squash is cooking, heat up a generous portion of cooking fat or oil in a skillet over a medium-high heat. Add the minced garlic and onions, and cook until the onions become translucent (about 5 minutes).
Add the ground beef and season to taste. Cook until the meat is browned then stir in the crushed tomatoes and bring the sauce to a simmer for a few minutes. Once both the squash and the meat sauce are ready, dish out equal portions of the spaghetti squash 'noodles', top with the meat sauce, and serve.
Alternatively, you can cut each half in half again and use them as little squash bowls, and serve with the meat sauce poured over the top. A little basil or parsley goes great as a garnish to this dish. If you're missing the cheese traditionally served on top of spaghetti, try sprinkling some nutritional yeast flakes over the top. It is incredibly nutritious and has a cheesy flavour to it.