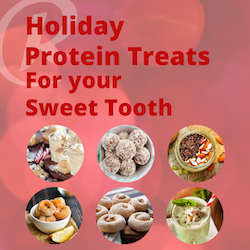 Want to get in the holiday spirit without having to sacrifice all your goals you've been working so hard towards? These protein treats will allow you just that! Celebrate the last month of 2021 without ALL the guilt the holidays tend to bring! Here are a few of our favorite high-protein treats for all our sweet-tooths (us included!)

Christmas Energy Bites

These Christmas Energy Bites are packed with protein, other nutrients and most importantly FLAVOR! These quick little snacks are great for on the go and will give you energy to finish the day strong.
Ingredients:
2 cups old fashioned oats
½ cup shredded unsweetened coconut
½ cup of chocolate protein powder
¼ cup hemp seeds or flax seed
½ cup peanut or nut butter½ cup honey
Directions:

In a small pot, heat almond milk and water until it starts to simmer. Do not let it boil!
Add in chopped white chocolate and whisk.
Remove from heat, add vanilla protein powder and whisk again.
Pour into a mug and serve hot!
Pumpkin Overnight Oats


Need something quick and easy in the mornings? Enjoy these holiday overnight oats that are sure to give you enough protein to start your mornings off right!

Ingredients:
¼ tsp of ginger
3 oz. of pumpkin puree
1 scoop of vanilla protein powder
½ cup of almond milk
1 tbsp of stevia (optional)
¾ oz of oats½ tsp of cinnamon
⅛ tsp of nutmeg
¼ oz of walnuts
2 oz. of plain Greek yogurt
Directions:
Blend Greek yogurt, protein powder, and almond milk together.
Begin to add in oats, pumpkin puree, stevia, and spices to the wet ingredients.
Mix thoroughly and place in the fridge overnight.
Stir before eating and top with walnuts.
Apple Spiced Donuts

Weekends are made for memories and this apple spiced donut recipe! If you have a BIG sweet tooth like ourselves, then you'll love this healthier alternative to enjoying a donut- without the guilt!

Ingredients:
1 cup of almond flour
2 scoops of vanilla protein powder
1 ½ tbsp of baking powder
1 tsp of apple pie spice
½ tsp of cinnamon
⅛ tsp of salt
¼ cup + 2 tbsp of unsweetened applesauce
3 tbsp of apple butter
2 large eggs
1 tsp of vanilla extract
1 tbsp of maple syrup
Directions:

Preheat the oven to 350 degrees F. Prepare your baking sheet with a silicone muffin tray on top. Spray with nonstick cooking spray.
In a large bowl, add the flour, protein powder, baking powder, apple pie spice, cinnamon, and salt. Combine ingredients well.
In a separate bowl, whisk together all of your liquid ingredients.
Add the liquid mixture into the large bowl with the dry ingredients; mix until all ingredients are fully incorporated.
Fill the donut molds evenly with the batter. If you don't have a donut pan, these can always be muffins!
Bake for 12-15 minutes or until a toothpick inserted in the center comes out clean.
Top off with extra cinnamon and enjoy
The Grinch Protein Smoothie



This delicious green smoothie will help properly fuel your body for the day. Feel in the spirit after drinking one of these in the morning. Even Christmas Grinches get into the holiday spirit after trying this protein smoothie!

Ingredients:
1 scoop of vanilla protein powder
1 frozen banana
1 tsp of Matcha powder
½ tsp of cinnamon
¼ tsp of nutmeg
½ tbsp of MCT oil
1 cup of coconut milk
Ice to blend
Directions:

Combine all ingredients in a blender. Blend well and enjoy!
Cinnamon Roll Cookies




Did someone say cookies?!? That's right! This recipe is a healthier alternative during the holidays and can help you stay on track without having to miss out.

Ingredients:
20 g of unsweetened applesauce
56 g of almond flour
1 tsp of baking soda
60 g of brown sugar
1 tsp of cinnamon
28 g of coconut flour
60 g of powdered sugar
¼ tsp of salt
84 g of butter
1 g of flaxseed milk
56 g of vanilla protein powder
Directions:


Preheat the oven to 350 degrees F.
Make filling: Whisk together the light butter and brown sugar. Take some coconut flour and whisk it in a little at a time until the mixture begins to thicken.
Make dough: Add all of your dry ingredients and mix well to avoid clumping. Add your butter and applesauce, and mix everything together until a dough ball forms.
Form the cookies: Transfer your dough to a baking sheet after spraying it with nonstick cooking spray. Press the dough down until it forms a rectangle shape.
Fill the cookies: Take your filling and spread it out evenly on top of the rolled out dough. Sprinkle cinnamon over the mixture.
Begin rolling the dough from top to bottom, keeping it as tight as possible. The dough will be delicate so be careful while rolling.
Once rolled, cut into 8 cookies.
Bake for 8-10 minutes. Then let it rest for 20 minutes after cooking.
Enjoy and store in the fridge!
Give these amazing recipes a try and let us know what your favorite is! (When on your phone, simply screen shot or when on a computer just click the right mouse button and hit save to save the recipes!)
One of the best ways to ensure success in your fitness and in achieving a lean, healthy body is to plan your meals and treats ahead!
These recipes are just to give you a taste of our Balanced Habits 28 Day KICKSTART program. When you are on this program you will experience how delicious, healthy, protein packed foods can give you the results you are looking for.
If you are ready to roll into 2022 sexy and feeling confident, simply call us or send us a message to 714.262.4003, or click the button below!
Your Recoup Friends,

Mattison, Stevie, Bo & Dani