Do you find it challenging to enjoy healthy alternatives to some of your favorite treats?
Many times these alternatives just don't hit the spot... or when going on a deep dive through the internet, many sites will suggest Greek yogurt, fruit, chai seeds, dates, sweet potatoes... and the list goes on to kick your cravings. These also don't give you the same satisfaction that sweets do...
For all of our sweet-lovers out there... you're going to want to keep reading. These delicious carrot-zucchini muffins are sure to satisfy your sweet-tooth without providing all the guilt afterwards.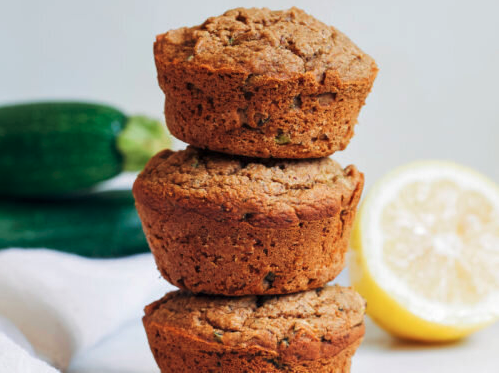 Ingredients:
1 1/4 cups Whole Wheat Pastry Flour
3/4 cup Almond Flour
1/3 cup Flaxseed Meal
1/2 Tbsp. Cinnamon
1/2 Tbsp. Ginger
2 Tsp. Baking Powder
1 Tsp. Baking Soda
1/2 Tsp. Kosher Salt
1/2 cup Water
1/2 cup Maple Syrup or Raw Honey
1/4 cup Coconut Oil
3/4 cup Grated Carrot (wrapped in paper towels and pressed to remove excess moisture)
1/2 cup Currants or Golden Raisins
1/2 cup Walnut Pieces, toasted
Directions:
1) Preheat the oven to 350 degrees F. Line or spray a 12-cup muffin tin.
2) Combine flours, and following six ingredients (thru salt) in a large bowl using a whisk. Make a well in the center.
3) In a smaller bowl, whisk water, syrup, and oil. Slowly add wet ingredients. Stir until just incorporated. Do not overmix. Gently fold in grated carrots, zucchini, currents, and walnuts.
4) Using a 1/4 cup, transfer batter to muffin tins. Place into center of pre heated oven and bake for 18-20 minutes; until a toothpick inserted into the center of a muffin comes out clean. Let cool in muffin tin on a wire rack for 10 minutes. Then transfer out of tin and onto wire rack to completely cool before storing.
**Tip: Store in an airtight container or Ziploc bag for up to 3 days at room temperature, or up to 1 month frozen.
If you are participating in our 28-day KICK START, continuing reading for your complete meal portion!
2 Unit Portion:
1 muffin

2 units portion protein (without an asterisk from Pack & Go charts)
3 Unit Portion:
1 muffin

3 units portion protein

(without an asterisk from Pack & Go charts)
4 Unit Portion:
2 muffins
4 units portion protein (without an asterisk from Pack & Go charts)
5 Unit Portion:
2 muffins

5 units portion protein

(without an asterisk from Pack & Go charts)