Whether heading out on a business trip or taking a vacation, even the most seasoned travelers can fall off their nutrition plan. Being away from home is a powerful temptation to do too much, eat too much, and throw caution to the wind.
We've all experienced that boredom about 5 hours into our flight or drive that switches on the urge of temptation… temptation to eat that cookie, those chips, or anything to occupy your feelings of boredom. Believe it or not, many of the unhealthy cravings we experience can be satisfied with a tall glass of water. Drinking a significant amount of water will cut your cravings by keeping you feeling full and energized.
With so many fast food chains on every corner, being too casual on a trip will result in falling off your nutrition game. Make eating healthy while on vacation a goal by sticking to your normal eating routine as much as possible.
Being prepared is your first step. You can still indulge in moderation while you're enjoying your trip or vacation but having your nutritious diet to cut those feelings of temptation is essential to over-indulging.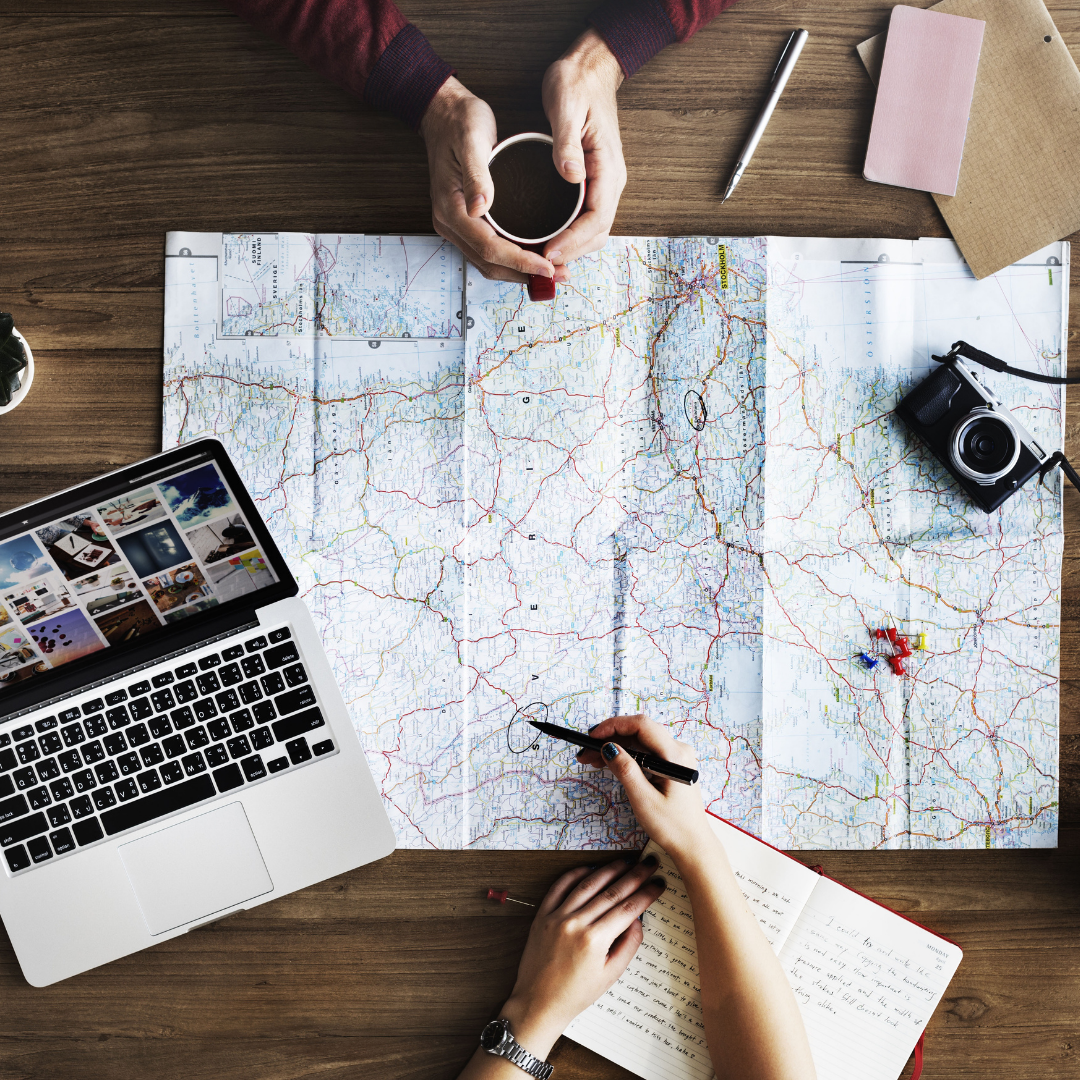 IN THE CAR
It always happens… you just finished packing everything up in the car and you've finally hit the road, but out of nowhere your entire family has the sudden case of 'the hangeries'. The last thing you want is to fuel your body with junk food that will end up leaving you exhausted, bloated, and unsatisfied.
Instead, pack a few snacks and easy meals that will hold you over such as:
Yogurt
Hummus and celery/carrots
Sandwiches
Hard-boiled eggs
Black bean salad
Tip: Bring airtight containers and a cooler to keep your food fresh for longer.
ON THE PLANE
While most airlines don't provide healthy food choices, you can still plan ahead so you can stay on track with your health goals. Ignore buying overpriced, salty fast food at the airport and alternatively travel with protein sources and a full liter of water that will help with dehydration and fatigue.
Consider these healthy options next time the flight attendant offers you a bag of pretzels:
Rice cakes with almond butter
Hummus
Homemade trail mix (raisins, pumpkin seeds, sunflower seeds, almonds, walnuts)
Whole fruit
PureFit Protein Bars
Tip: Did you know for long haul flights you can ask the airline ahead of time to prepare you a special meal? The most popular alternatives are kosher or vegetarian.
AT THE HOTEL
Do your research ahead of time to check if there is a supermarket nearby and don't hesitate to ask the hotel staff for recommendations when booking your room- chances are that they will have the answers you are looking for.
Stock yourself up with the essentials when you get those midnight munchies:
Milk
Pre-cut veggies
Bread
Whole grain cereal
Fruit
Tip: Request a microwave and a fridge in your room to help keep your food products fresh!
BY THE SHORE
Spending your day at the beach or enjoying a scenic hike? Make sure your diet includes high-quality, lean protein. We cannot stress enough about maintaining a healthy lifestyle through balanced meals, but not having protein can leave you worn out before the day is over.
Opt for these easy alternatives to make the most out of your beach day:
Hard boiled eggs
Tofu
Chicken
Skirt steak
Tip: Don't forget to add some veggies to your plate!
DINING
You might not always have the luxury or access to a kitchen, fridge, or microwave during travel so it is important to do research before your trip begins to find healthy restaurant options that align with your health goals. If you do have access to a complete kitchen set then you can buy and cook your own food!
Here are some smart healthy choices for dining-in:
Steamed veggies
Brown rice
Whole grain pasta
Tofu
Egg salad
Tip: Create a grocery list before your trip to make sure you grab all the essentials