Meal prep saves you time, money and hassle, and it's the way we have been cooking for years now. It's also a big part of the reason we have been able to keep up our personal fitness along with a crazy work schedules, taking care of our kids and still squeeze in some time for fun on weekends. Since we get asked so often, we thought we'd share our biggest tips on meal prepping.
Read on to find out how meal prep helps keep us on track and living our best lives – it can do the same for you too!
Scroll down to find:
tips to cut down on cooking time

2 recipes per meal (breakie, lunch, dinner)
Figuring out what meals to make and how much to prepare can be the most challenging aspect of meal prepping when first beginning. We suggest you focus on meal prepping for just one meal whether that be breakfast, lunch, or dinner depends on your lifestyle.
When selecting which meals you'd like to make, it is best to start with a limited number of recipes that you already know or feel comfortable with. Some people are okay with eating the same meal throughout the week, but if you already know this will lead to boredom and falling off then choose some variety in your meals. Pick recipes/meals that contain different vegetables, protein-rich foods, complex carbs such as brown rice, quinoa, or sweet potatoes.
Tips to Cut Down on Cooking Time
The following methods will help streamline prep and cook time:
Stick to a Consistent Schedule
Knowing exactly when you'll shop for groceries and prep your meals will form a good routine. For instance, you might reserve Sunday mornings for grocery shopping and meal prepping. This will hold you accountable and set you up for success in your upcoming week.
Pick the Right Combination of Recipes
A good rule of thumb is to stick to one oven meal and a maximum of two stovetop meals at once - for example, roasted sweet potatoes, a stir-fry, and soup. Then simply add meals that require no cooking such as sandwiches or salads.
Organize Your Prep and Cook Times
To best organize your prep and cook times, start with the recipe that requires the longest cook time - once that meal is underway, focus on the rest. Reserve the cold meals for last since they can easily be made while other food is cooking.
Breakfast Ideas for Meal Prep:
5-Ingredient Banana Egg Pancakes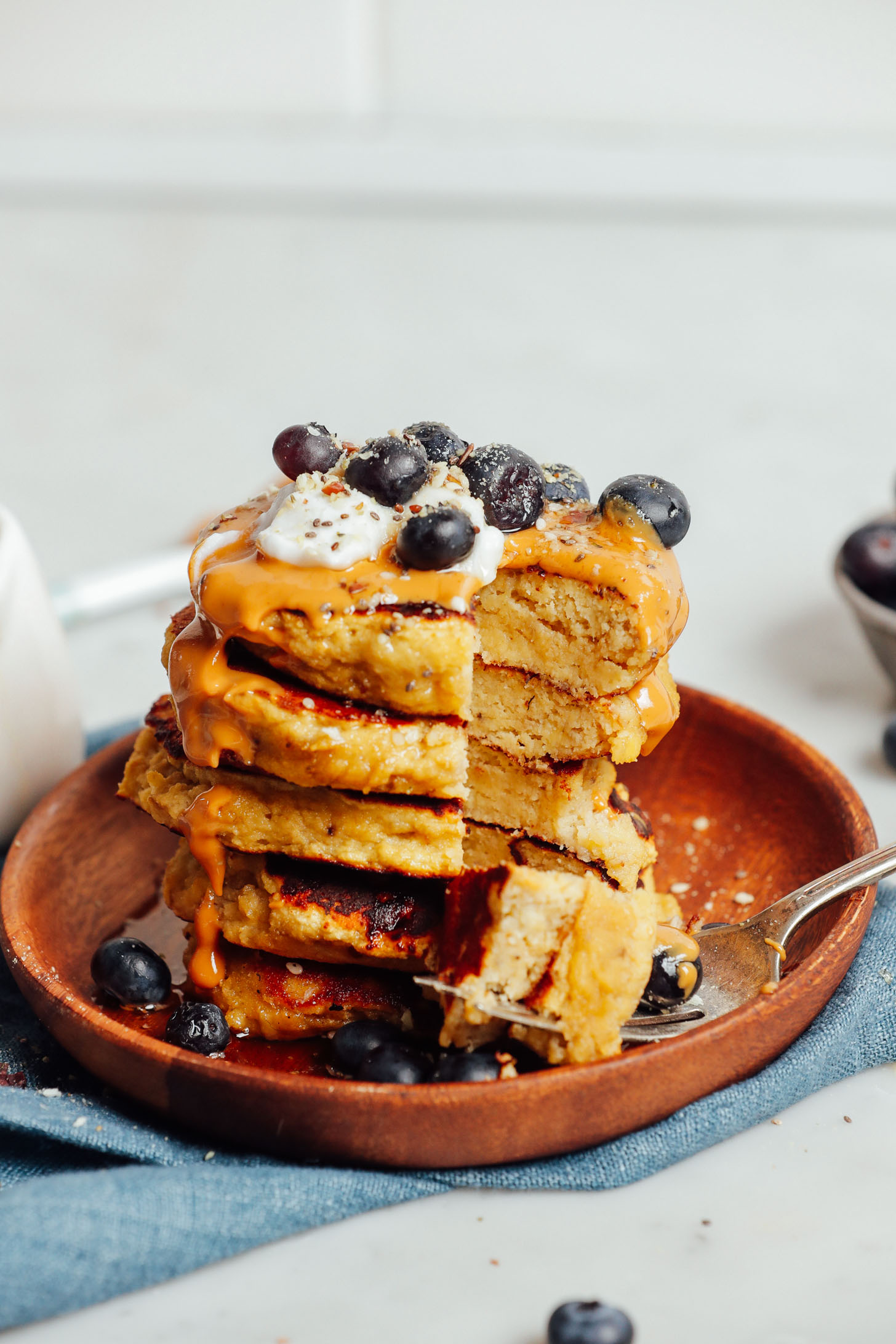 Serves: 15 pancakes
Total Time: 15 minutes
Ingredients:
5 medium ripe bananas

5 tsp. Baking powder

2.5 tsp of vanilla extract

5 large eggs

10-15 tbsp of coconut flour

Coconut or cooking oil
Toppings (optional)
Berries

Nut Butter

Chia seeds

Coconut yogurt

Maple syrup
Directions
We've found that while these pancakes cook well on the stove-top, it can be helpful to keep them warm in the oven where they will continue to bake and firm up while the remaining pancakes cook. If this sounds helpful, preheat the oven to 350 degrees F (176 C) and line a baking sheet with parchment paper. However, this is not necessary, meaning you can skip this step.

To a large mixing bowl, add bananas and mash until only small bits remain. Then add baking powder and vanilla extract and use a fork or whisk to mash until thoroughly combined.

Next add eggs, break yolks with a fork or whisk, and whisk thoroughly until well combined.

Lastly, add coconut flour 1 Tbsp (9 g) at a time until a thick but scoopable batter is achieved (thicker than your average pancake batter, but not so thick that it appears dry). If you add too much coconut flour, add a little dairy-free milk to thin.

Heat a large skillet over medium heat. Once hot, add a little cooking oil to coat the pan. Then spoon in roughly 3-Tbsp amounts of batter and reduce heat to low. These benefit from cooking slower and lower than your average pancakes. Cover with a lid to help the center cook through.

Cook for 3-4 minutes, then remove the lid and flip carefully. Cook for 3-4 minutes more (lowering heat as needed if cooking too fast) or until the underside is golden brown. Transfer cooked pancakes to the preheated oven on the prepared baking sheet (or to a serving plate). Continue cooking until all batter is used up — as the recipe is written, ~15 pancakes.

To serve, top with desired toppings, such as nut butter, sliced bananas or fresh fruit, dairy-free yogurt, or maple syrup. We also love a sprinkle of seeds for more fiber and healthy fats.

Best when fresh, though leftovers keep covered in the refrigerator 3-4 days, or in the freezer up to 1 month. To reheat, microwaving is most effective. Otherwise, toast or bake in a 350 degree F (176 C) oven until hot.
Breakfast Sandwiches

Total time: 30 minutes Yields: 10-12 sandwiches
Ingredients: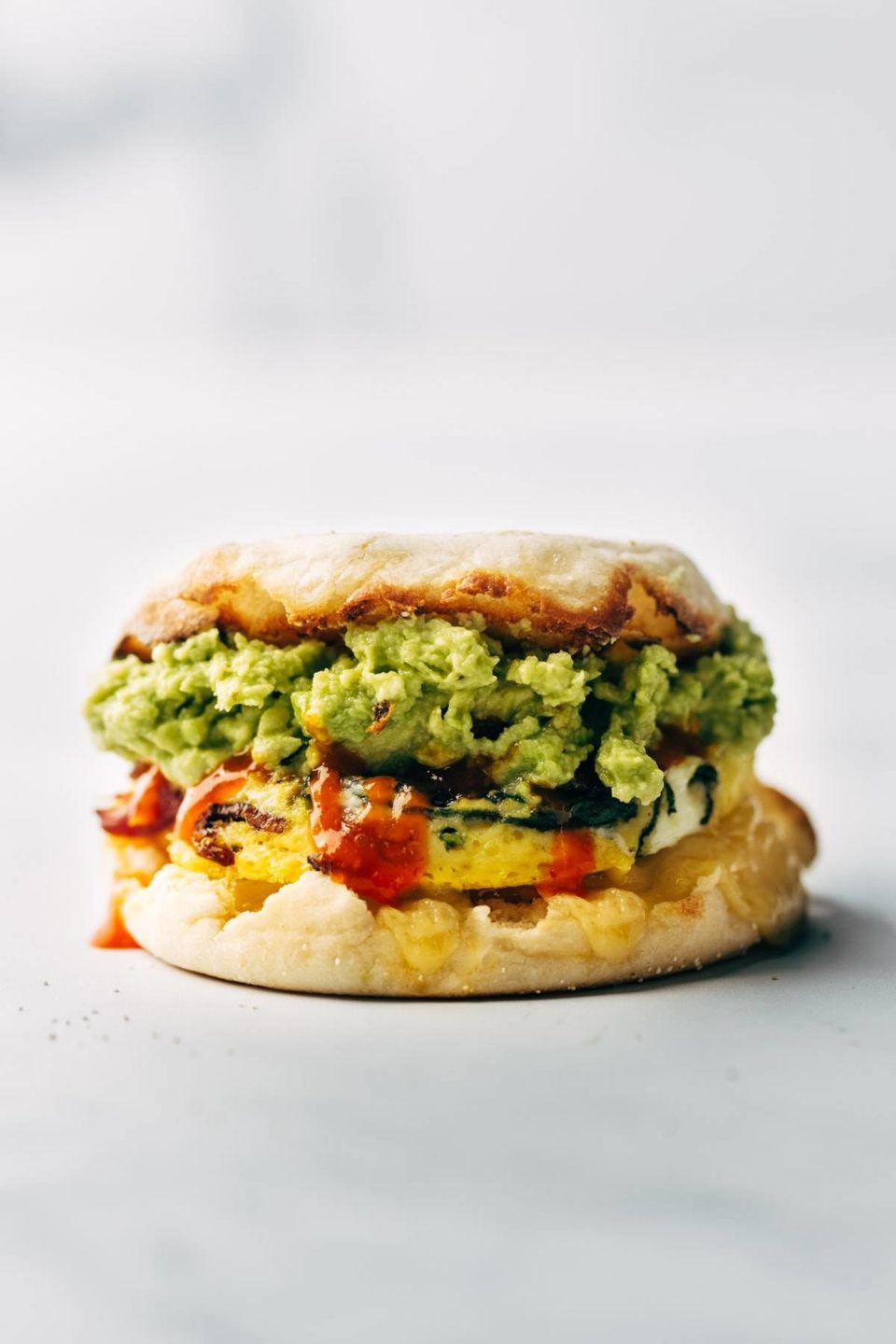 12 eggs

¼ cup whole milk

1 ½ tsp salt

6 slices of bacon

A few handfuls of spinach

12 english muffins

Cheese (optional)

Butter (optional)
Directions:
Preheat the oven to 300 F. Generously oila rimmed half sheet pan.

Whisk the eggs, milk, and salt.

Cut the bacon into small pieces. Fry in a heavy skillet until crispy. Add the spinach and stir until wilted. Using tongs, let excess fat drip off for a few seconds before adding your bacon and spinach to the egg mixture.

Pour the egg mixture into the oiled half sheet pan. Bake for 15 minutes, until just set.

Remove, cool, and cut into rounds using a wide mason jar lid or round cookie cutter. Spread English muffins with butter (optional) and place an egg round on each one. Add cheese, wrap in foil, and voila.

Refrigerate (4-5 days) or freeze (no limit). To reheat, you can use the oven, microwave, or toaster oven.
Lunch Ideas for Meal Prep:
Thai Chicken Lunch Bowl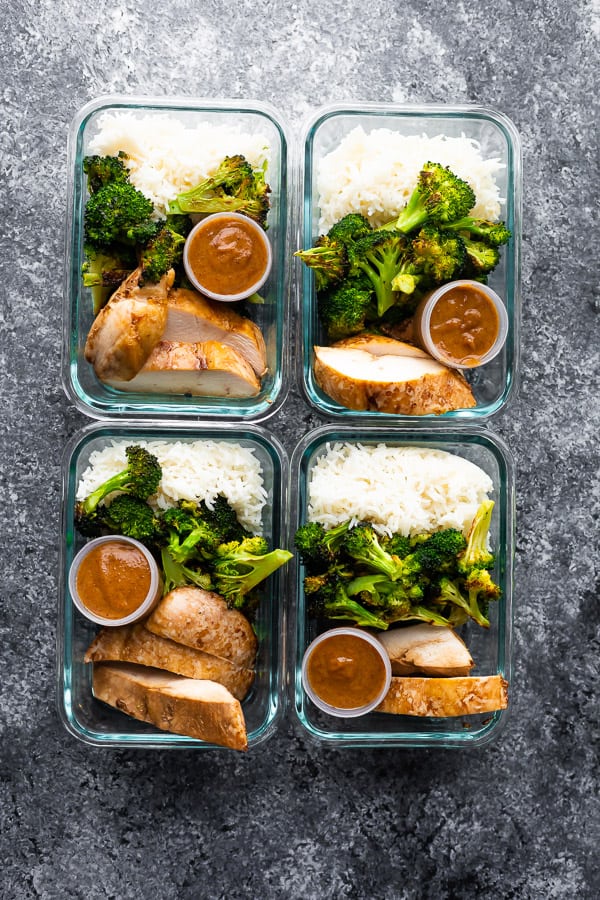 Yields: 5 servings
Total time: 30 minutes
Ingredients:
1 cup of brown rice

2.5 chicken breasts

1 ½ tbsp olive oil

1 ¼ soy sauce

7.5 cups of veggies

⅓ cup of natural peanut butter

1 ½ tbsp of maple syrup

2 tbsp of rice vinegar

1 ¼ tsp sesame oil

½ tbsp lime juice

1 ¼ tsp ground ginger

2 ½ tbsp of water

⅓ cup of peanuts
Directions:
Cook rice according to package directions. Set aside to cool slightly before dividing into 5 meal prep containers.

Preheat the oven to 425 F.

Place the chicken in a small baking pan and drizzle in olive oil and soy sauce. Turn to coat.

Toss the vegetables in olive oil and arrange on a large baking sheet.

Place chicken and veggies in the oven together. Bake for 25 minutes total or until an internal temperature of 165 F is reached, turning once halfway through the cook time. Bake the veggies for 15-20 minutes, until softened and cooked through.

While the chicken and veggies are baking, shake together peanut sauce ingredients. Portion out into condiment containers if you have them (if not you can drizzle over everything).




Divide chicken and veggies between the meal prep containers, and place a serving of peanut sauce on or with the container.
Baked Sweet Potatoes Loaded with Buffalo Chicken

Ingredients: Yields: 4 servings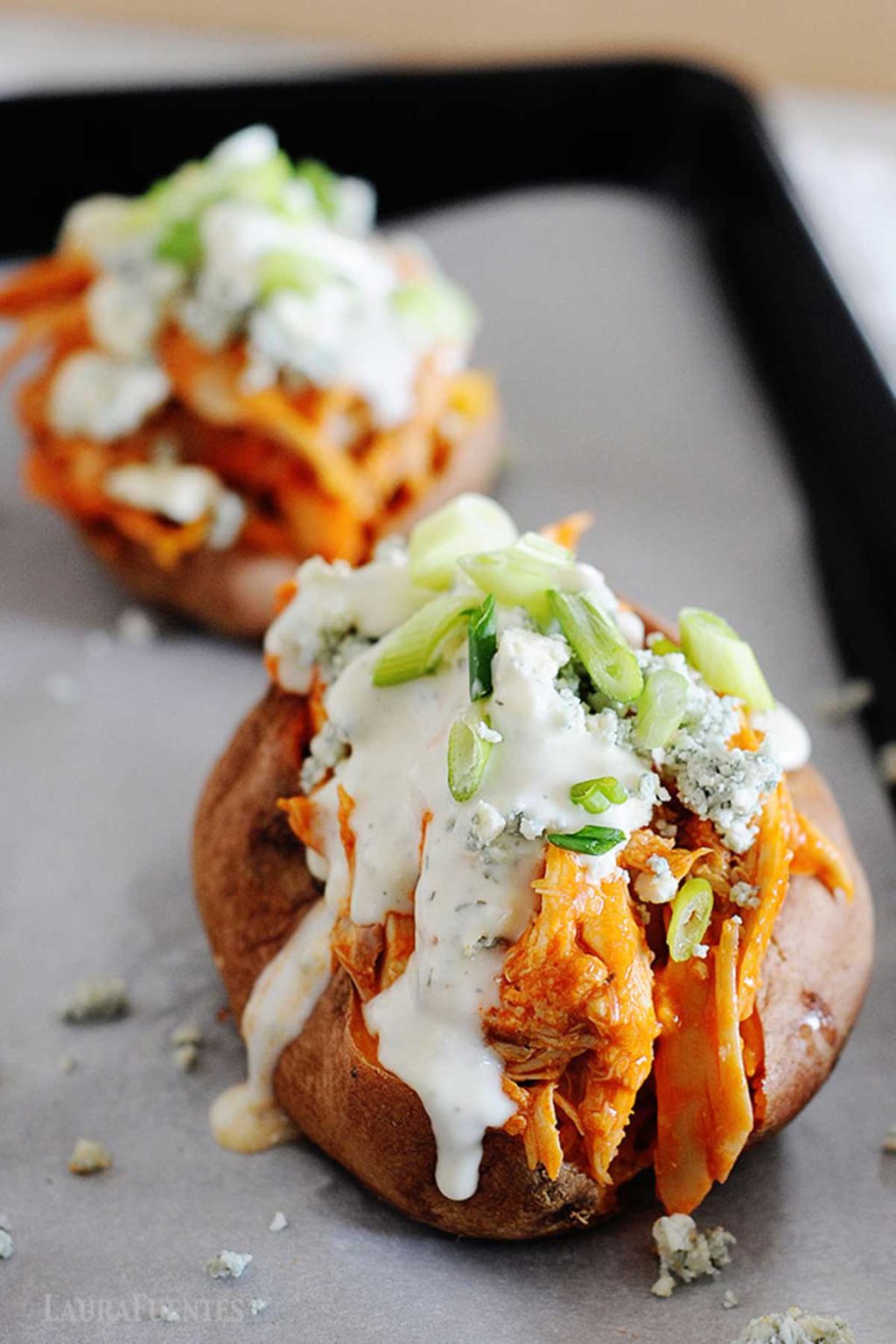 1 lb chicken breasts

1 cup buffalo sauce




4 medium sweet potatoes, baked

Ranch dressing

2 green onions

Blue cheese crumbles
Directions:
Place the chicken in the dish of a slow cooker, top with buffalo sauce and toss to coat. Cover and set on low for 8 hours or high for 5 hours.

Once the chicken is cooked through and easily shreds apart between two forks, shred the meat and toss into the sauce.

Baked the sweet potatoes wrapped in tin foil for 20-25 minutes at 375 F or until easily punctured with a fork.

Slice each baked sweet potato lengthwise. Open and use a fork to separate the sweet potato meat from the skin.

Top with buffalo chicken, ranch dressing, blue cheese crumbles and green onions.
Dinner Ideas for Meal Prep:
Asian Chicken Salad Wraps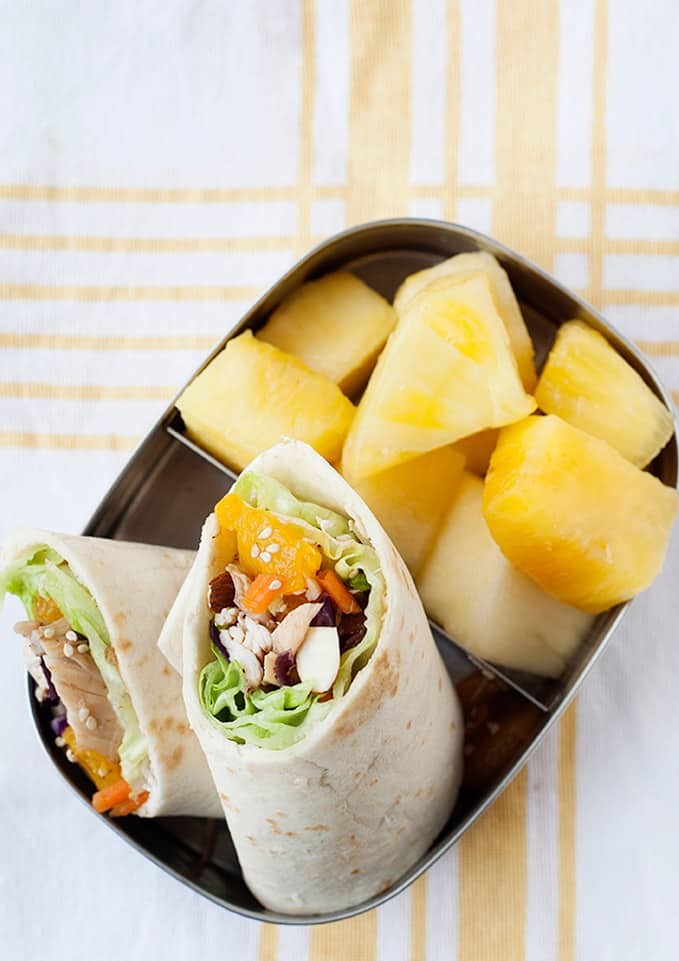 Yields: 4 servings
Total time: 10 minutes
Chicken salad:
2 cups cooked chicken, chopped

10.5 oz can of mandarin oranges, liquid drained

2 stalks celery, diced

½ cup shredded carrots

1 cup purple cabbage, finely shredded or chopped

2 green onion, thinly sliced

½ cup sliced almonds

½ tsp black pepper

4 large tortillas

Shredded lettuce
Sesame ginger dressing:
⅓ cup rice vinegar

¼ cup soy sauce

3 tbsp sesame seeds

1 tbsp brown sugar

2 tsp ginger, grated

1 garlic clove, grated

1 ½ tsp sesame oil
Dressing directions:
In a lidded jar or medium bowl combine the dressing ingredients. Place the lid onto the jar and seal. Shake to combine. Refrigerate for up to 1 week.
Wrap directions:
In a large bowl, combine the chicken, mandarin oranges, celery, carrots, cabbage, almonds, green onions, salt and pepper. Add ½ cup of dressing and toss to combine.

To serve, place ¾ cup of chicken salad onto each tortilla and top with shredded lettuce. Fold and roll tightly.
Italian Sausage and Pepper Salad
Yields: 4 salads
Total time: 25 minutes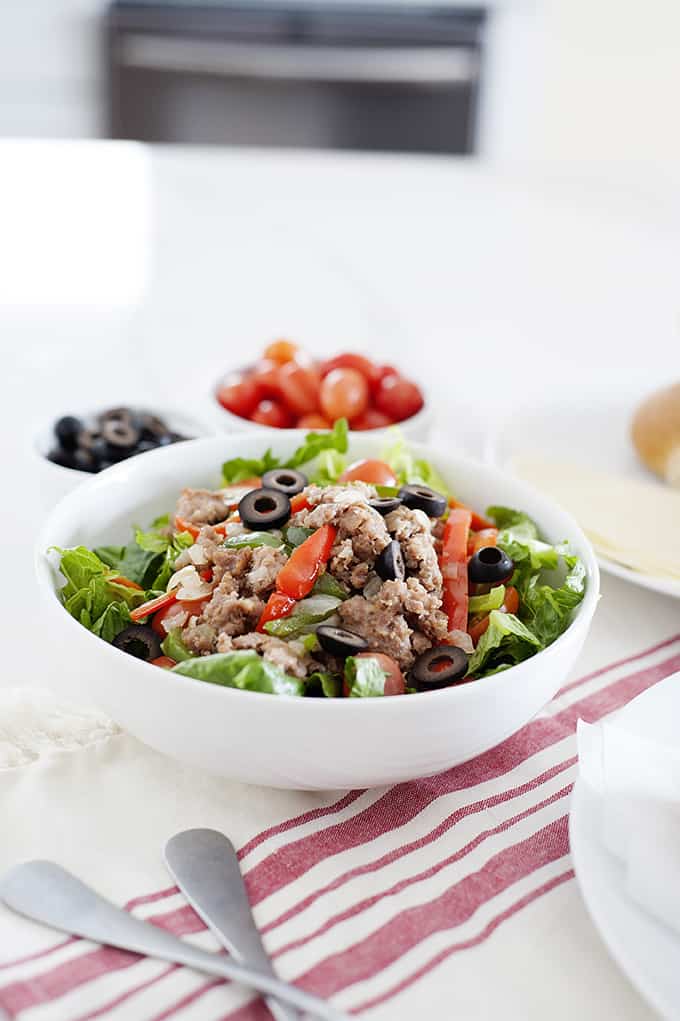 Ingredients:
16 oz sweet Italian sausage, pork or chicken

2 green bell peppers, chopped

2 small onions, chopped

6 cups shredded romaine lettuce

1 cup cherry tomatoes, halved

8 oz sliced black olives
Directions:
Remove sausage from the casing by using a knife down the middle of the sausage. Peel back casing, add sausage to a large cast iron skillet, heated up over medium-high heat. Cook sausage, breaking it up with a spatula into smaller pieces as it cooks.

Once sausage is done cooking, add bell pepper and onions to the skillet. Cook for an additional 5 minutes until the onions and peppers have softened, turn off heat.

Assemble the salad by creating a bed of romaine lettuce, topped with cherry tomatoes, and half of the black olives. Top with half of the sausage and veggie mixture.
We know how hard it can be to stay on track with healthy eating, and we hope these tips and sample recipes help you on your meal prep journey. We would love to hear a little more about your own experiences in and out of the kitchen. We are looking to speak with readers (hopefully YOU!) who want to learn more about the meal planning process and how to save money on their grocery bill each week, as well as get more organized in the kitchen! If you'd like to share what you're struggling with right now and where you're hoping to improve, send us a quick reply to info@recouppersonaltraining.com expressing interest and we'll be in touch with more details about how our programs can help you save time in the grocery store and kitchen, so that you can finally get the results you deserve while leading a busy lifestyle!
We would absolutely love to hear from you!
- Dani, Bo, Stevie and Matt