Fall is here, which of course means Halloween, Thanksgiving, and Christmas are all right around the corner!
Now, if you're someone like us who loves sweet treats, but also wants to stay on track with their nutrition… the holidays can certainly be a bit of a challenge..
There are so many temptations being put in front of our face – especially around Halloween!
This entire holiday is essentially dedicated to dressing up and eating candy. We love candy probably just as much as you, but we'd prefer if there was a healthier alternative.
Guess what…there are plenty of healthier alternatives… most of which are definitely not all that fun and exciting. That's why we came together to create some fun, and much healthier, alternative recipes for the spooky season!
Here are 4 sweet, delicious, and healthier Halloween recipes that you will want to try this week!
Chocolate Peanut Butter Protein Ball Spiders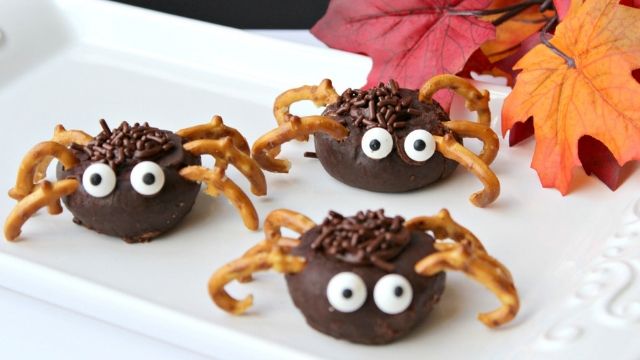 We love protein balls in our house because they're packed with protein, they give you energy that lasts so much longer, and won't cause you to crash later.
We saw these cute chocolate peanut butter spider cookies on Pinterest last week, and immediately thought that we could make a similarly cute but healthy Halloween treat with our chocolate peanut butter protein ball recipe.
These are SO ridiculously easy to make, and really fast. Seriously!
INGREDIENTS:
1 cup natural peanut butter, crunchy or creamy

1/4 cup raw honey or maple syrup

1/4 cup unsweetened cocoa powder

2 scoops heaping Millecor Peanut Butter Chocolate protein powder

1/2 cup sugar free chocolate chips

80 pretzel sticks
OPTIONAL TOPPINGS:
40 small candy eyes (for looks)
DIRECTIONS:
Mix the nut butter, honey or maple syrup, cocoa powder, protein powder, and chocolate chips together until it forms a smooth dough.
Roll pieces of dough into 24 balls which should be a little smaller than an inch in diameter.
Place two candy eyes onto each chocolate peanut butter protein ball (if you'd like).
Break 4 pretzel sticks in half to create 8 legs per ball.
Refrigerate at least 10 minutes before eating. These can keep in the fridge for up to a week.
Apple Monster Teeth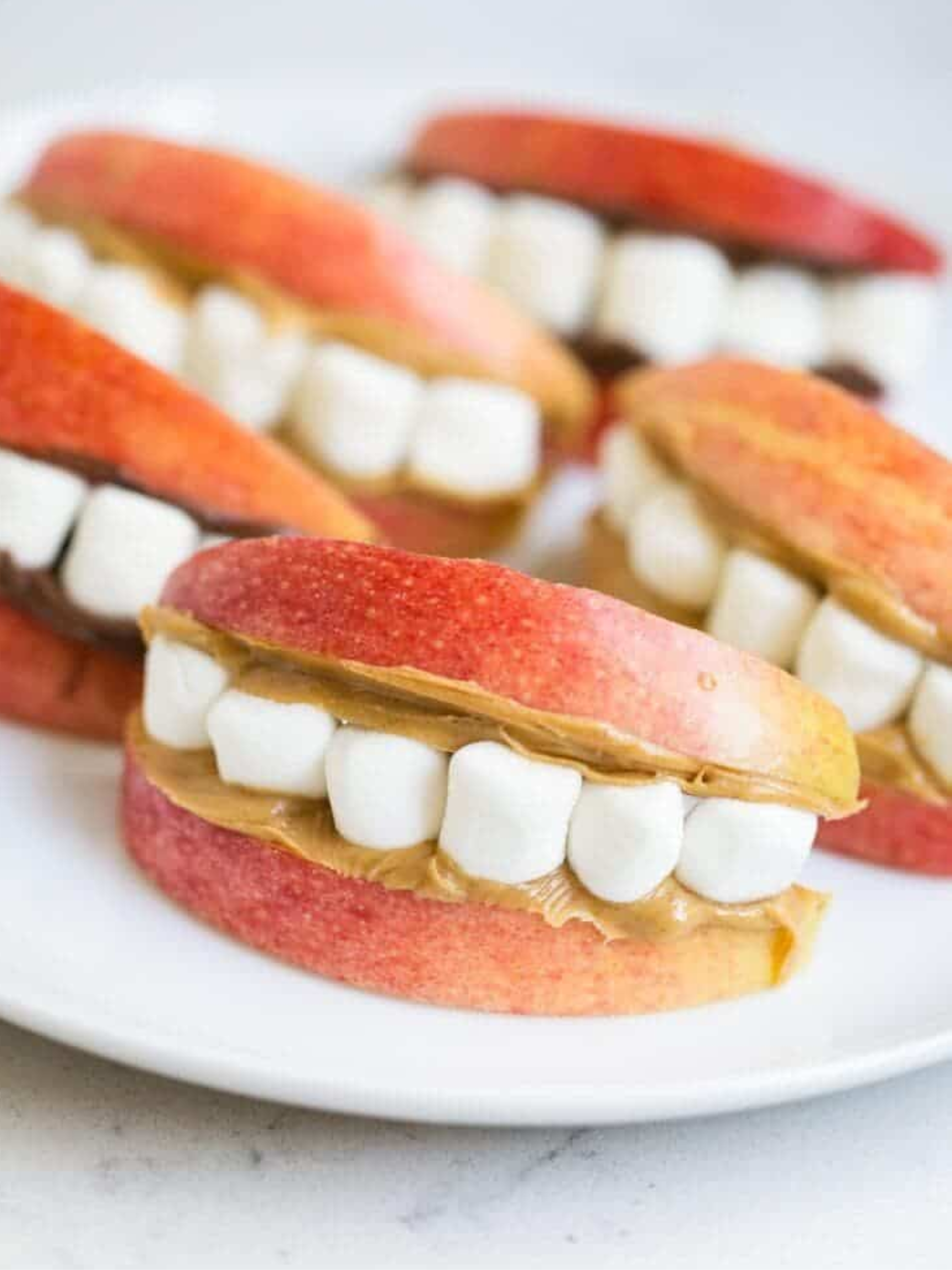 This easy and fun treat will sure woo your kids!
Ingredients
Apples (makes 4 per apple)
Mini marshmallows
Creamy or Crunchy Peanut Butter
Directions
Cut the apples using an apple cutter and apply peanut butter on one side of the sliced apple.
Assembly: grab two apple slices and place marshmallows along the peanut butter on only one of the two slices.
Grab the apple slice with no marshmallows and set it on top to create your Apple Monster Teeth!
Franken-Kiwi's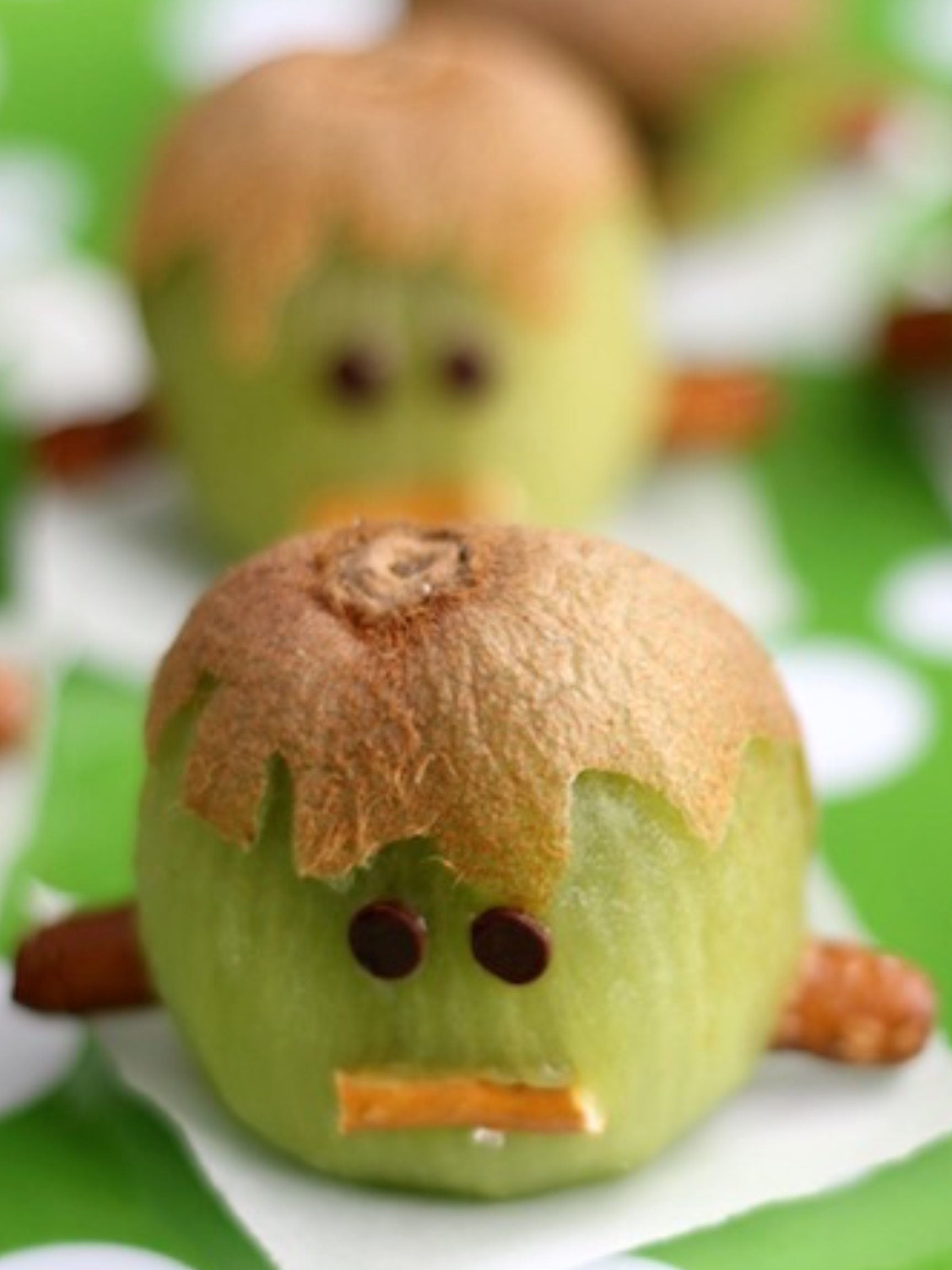 Get into the holiday spirit with these hilarious Frankenstein Kiwi's
Ingredients
4 Kiwi's
2 oz. of dark chocolate melted
Pretzels
Googly eye sprinkles
Directions
1. Use a small, sharp knife or vegetable peeler to remove the fuzzy outer skin from the bottom ⅔ of each kiwi. Slice in half and lay on a plate.
2. Pat the kiwi with a paper towel, then use melted dark chocolate to pipe a scar and a line for a mouth. Pipe two dots of chocolate, then stick googly eye sprinkles on to the face. Break apart pretzel sticks and stick them into either side of the kiwi for bolts.
Pretzel Broomsticks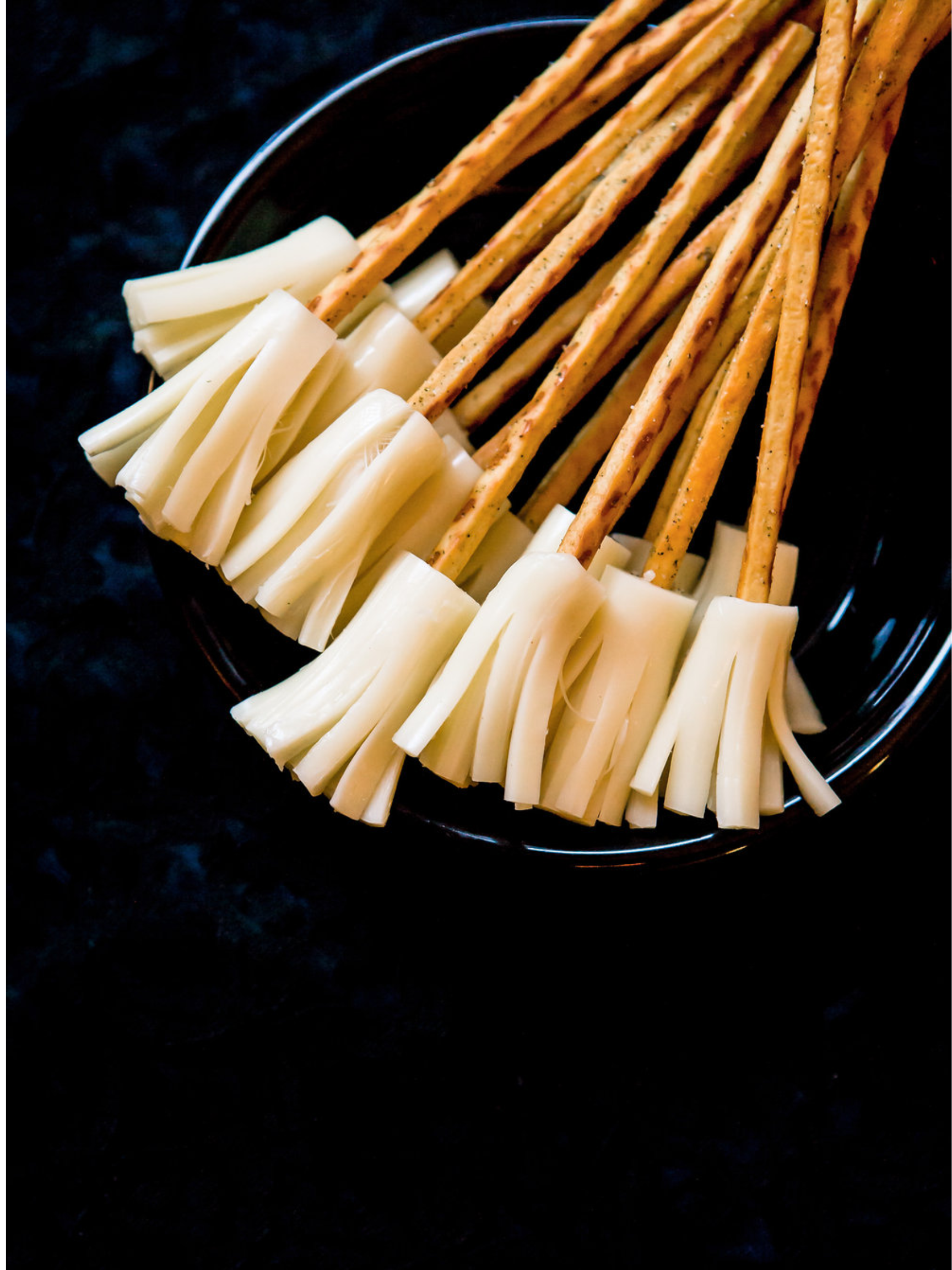 Every witch needs her broom! Don't miss out on this simple recipe.
Ingredients
Pretzels

Mozzarella cheese sticks
Directions
1. Peel open the mozzarella cheese sticks and cut them into thirds. Use a clean, sharp scissors or a small knife to snip the bottom half of each piece several times to form bristles. Stick a pretzel stick into the top for a broom handle.