If living A LONGER, STRONGER, & HEALTHIER life is important to you, then we are super excited that you're here and ready to transform your life with us in Costa Mesa
You too can lose weight, regain your energy, boost your confidence, and get in your best shape with our Balanced Habits™ LIFE program.
Sustainable success on any fitness journey can only happen with a combination of strategic fitness training and a healthy nutrition plan. At Recoup Personal Training, we're here to offer you both.
Our Nutrition Coaching cuts through the noise and confusion that surrounds so many diets. We help you understand what your body needs to succeed and then we help you implement those strategies into your daily life.
Come see us here in Costa Mesa today or simply fill out the short form on your screen to learn more!
What's Included In Our Nutrition Coaching Program?
When it comes to nutrition coaching, we have three priorities: education, empowerment, and accountability.
We first EDUCATE you about the proper ways to fuel your body. We simplify the process and we help you better understand the hows and whys of sustainable nutrition.
Then we EMPOWER you to make those changes in your daily routine. That means providing you with resources and tools to make a plan and stick to it.
Finally, we work to hold you ACCOUNTABLE. We provide ongoing feedback throughout the process and we help you track your progress on the path to long-lasting success.
It's true eating the right kinds of foods can work miracles on your body! Our goal is to get you on the right track with eating wholesome foods and moving regularly. You will have the habits, strategies, and support to keep going for the rest of your LIFE!
What's Your Goal?
Are you having difficulty managing your weight?
We can help
Do you want to see more definition?
No problem
Has your progress plateaued?
Let's get you over that hump!
No matter the goal, a successful nutrition program isn't just about reaching your target, but being able to sustain your results. Typically, achieving your objective is the 'easy' part. It's a matter of maintaining your results that requires a lifestyle approach. See how the LIFE program can do so by teaching you the skills, improving your mindset, and developing the habits that will lead to long term health and confidence. Very quickly you will feel stronger and more capable to continue on with a healthier and more fulfilling lifestyle.

Denying yourself foods you really love is miserable and makes you crave them even more. Sticking to only "health food" is not sustainable, and any plan that requires you to eliminate your favorite foods will inevitably fail. A better way of eating includes everything you love to eat along with strategies to help you learn how much and how often you can enjoy them and still get the results you're aiming for.
What Comes With Your Program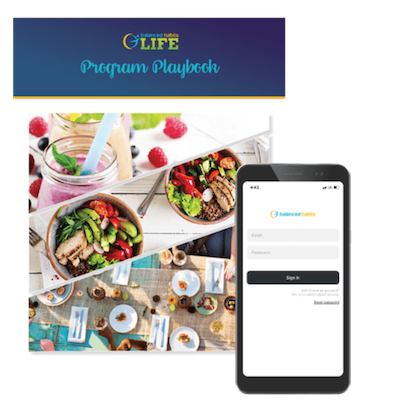 Scheduled Check-ins & Journal Reviews
to track your progress & to learn the key areas where you can improve on your journey.
Meal Planning, Recipes, & Macronutrient Food Chart
to provide you with all of the tools to personalize your journey & discover what works best for you.
LIFE Resource Library, Mobile App, & Journal
to learn the benefits of a customized macronutrient eating plan, along with the tools to plan and record your meals so you can gain control of your relationship with food.
Personal Coaching
to provide the guidance & accountability needed for you to stay committed to your goals every step of the way.
Learn More About Our Nutrition Coaching Here In Costa Mesa!
If you're tired of struggling to see results, it's time for a change. Join us here at Recoup Personal Training and take on our comprehensive Nutrition Coaching program today! We're setting people of all backgrounds and fitness levels up for success and we can't wait for you to get started.
Fill out the short form on your screen to learn more!