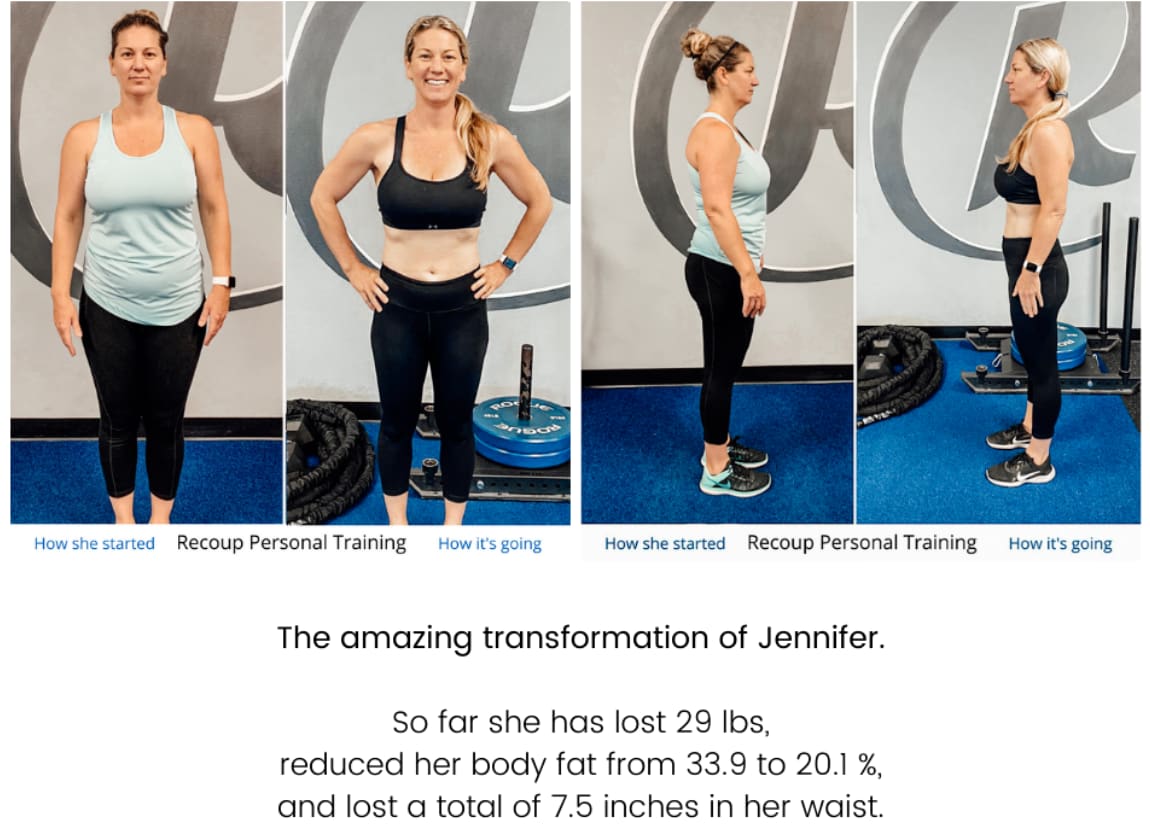 My progress since I joined Recoup Personal Training… Down 29 pounds, lost 13.5% body fat and over 21 inches total!
What a difference proper nutrition and exercise will have on the body.
Never did I think I'd change the way I eat or exercise on a daily basis. I still eat the foods I love, just in a modified version.
My workouts are challenging but the payoff is how much I thrive from them, how good I feel, how strong I am getting and how much energy I have for the rest of the day.
I have learned a lot with the right training and guidance, and I could not have done this without the support of the Recoup family.
I see these results not only on myself but with others who have joined the program. Matt, Stevie and Bo make showing up to the gym easy and comfortable and give me the encouragement and accountability I need to keep me going.
They have been a huge contribution to my success and definitely deserve some recognition! Thank you" - Jen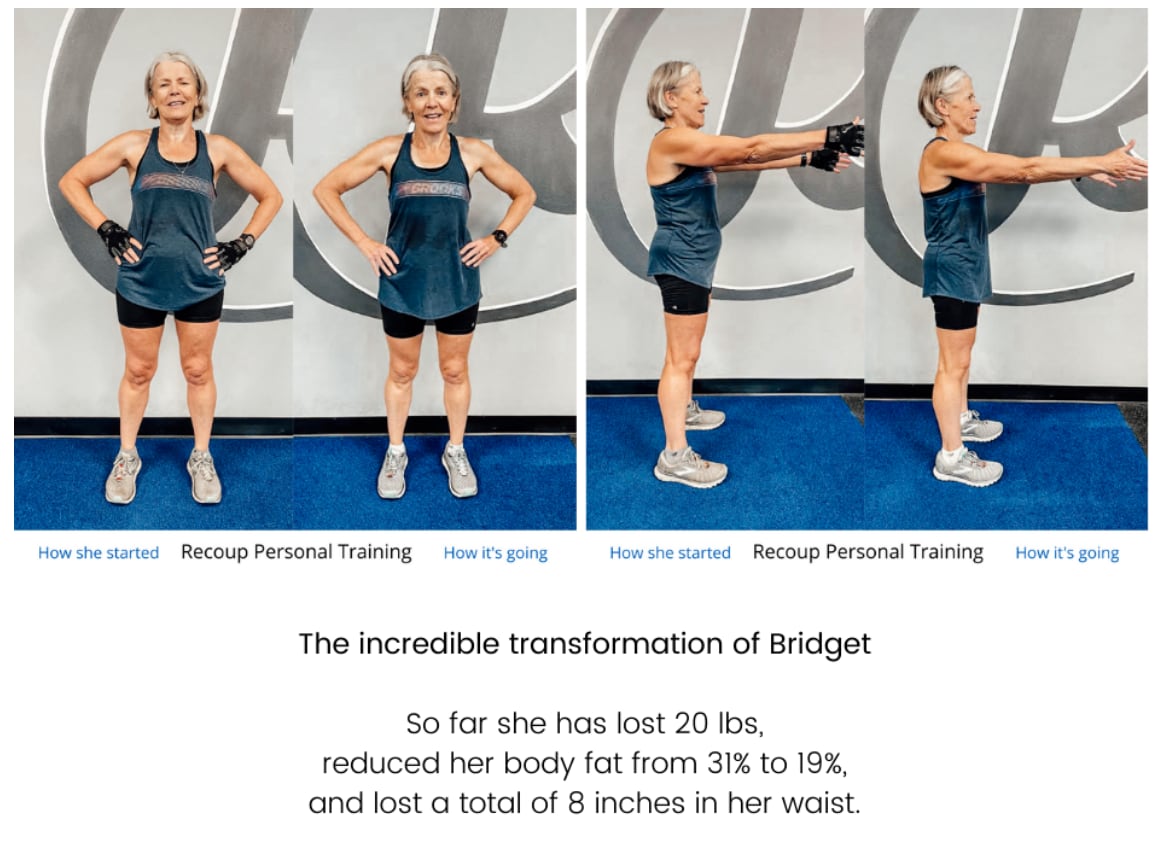 "Reaching my goal would mean that I will not be put into the box of old people."⠀
A big shout out to Bridget who shows that making changes to your body and your health is absolutely possible at any stage of life.⠀
In 10 weeks she:⠀
lost 20lbs, 12% bodyfat and a total of 17 inches⠀
is running 5K under 24 minutes again⠀
AND is feeling more energized than ever!⠀
We are super proud of Bridget for her commitment to living her best life at 60 years. She is an amazing example of the power of nutrition combined with fitness and the right mindset. ⠀
Keep scrolling if you want to read more about what Bridget has to say about her transformation journey:⠀
"Just before Halloween I reached out to Bo for help with my nutrition. In addition to setting a goal weight by the end of 2020 I set myself a 5k time goal by end of March 2021. Even though the time is about 2 minutes slower than the best time I raced in my 40's many of my running friends tell me it's not going to happen.⠀⠀
In addition to creating a nutrition plan Bo reminded me of the importance of getting enough sleep and giving my body time to recover. With Bo's coaching, I switched my priorities from cardio, strength training and nutrition to nutrition, strength training and cardio.Just by switching that mindset has generated amazing results.⠀
Since starting the Balanced Habits LIFE program my energy level has increased, my running pace has increased, and I reached my goal weight.⠀
Training with Matt, Bo and Stevie have made me stronger than I was 20 years ago.⠀
I'm so grateful for the coaching, expertise, professionalism from RECOUP team!" - Bridget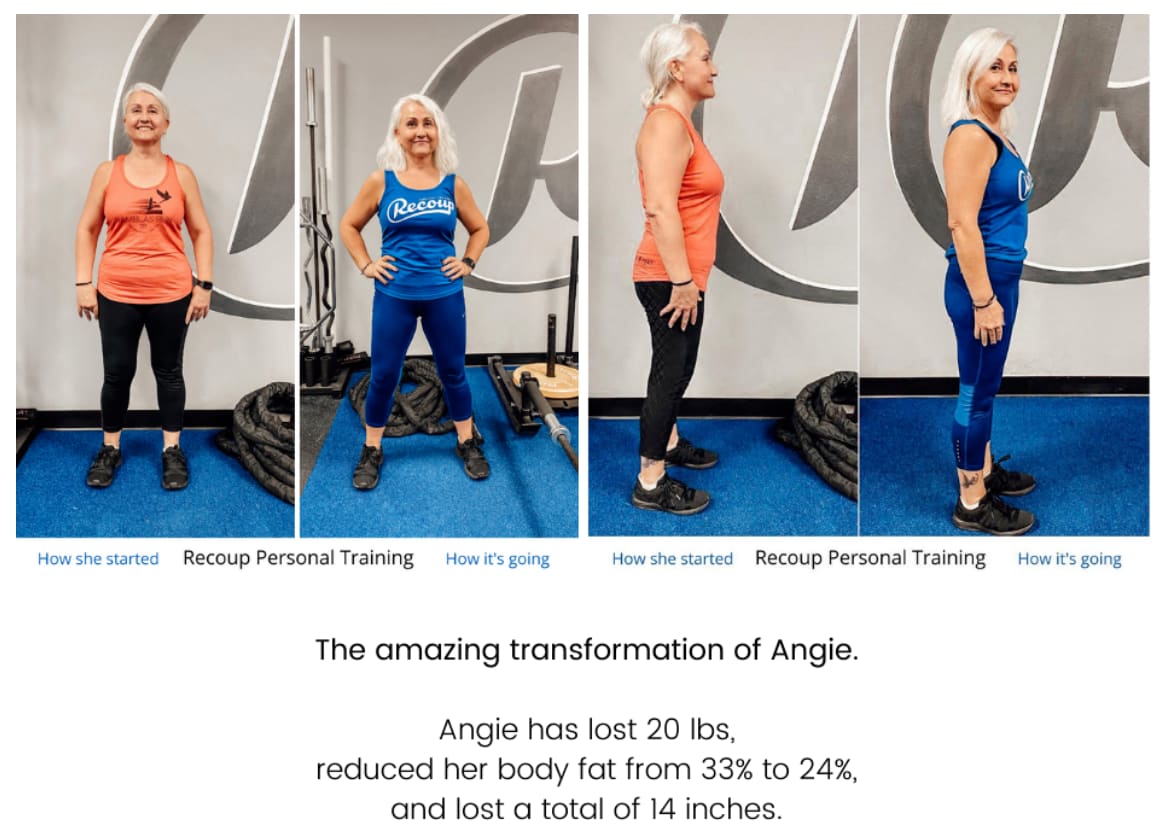 This woman is incredible!
Angie lost 15 lbs of body fat, 13.5 inches and down a total of 8.2% body fat! What an amazing transformation for her 60th birthday!
Here is what Angie had to say about her experience :
"2020 what year! The year of life changing events we had so little control over thanks to COVID 19.
We do, however, to a certain extent have control over our health and well-being, so I seized the opportunity to do exactly just that. I took control of my health and well-being.
Reaching a milestone birthday made me want to start a new decade as a better version of myself. I didn't know what to do and I knew that I couldn't do it alone. Tried and failed many times before.I decided to join the Balanced Habits Life Program with the knowledge and support of Bo and Matt.
Bo, my nutrition coach, guided me through my nutrition changes, and also included tips on how to manage through social events and a home environment that is not conducive to my goals. And Matt, my training coach, with his creative and challenging workouts helped me build strength, stamina, and endurance.
I learned how important the mind body connection is. It's not just about the body, the mind needs to be engaged as well. Balanced Habits provides tools to work through the mental aspect of the transformation journey.
My biggest take-aways were: be patient with myself, be disciplined about nutrition and be consistent-consistency over time is where the results are. And to forgive myself when slipping up. A slip up doesn't mean give up!
I'm so happy I made the decision to do the Program and highly recommend it. I'm so grateful to Bo and Matt for their guidance and support.
I feel so accomplished, so happy, I feel like I'm thirty again!" - Angie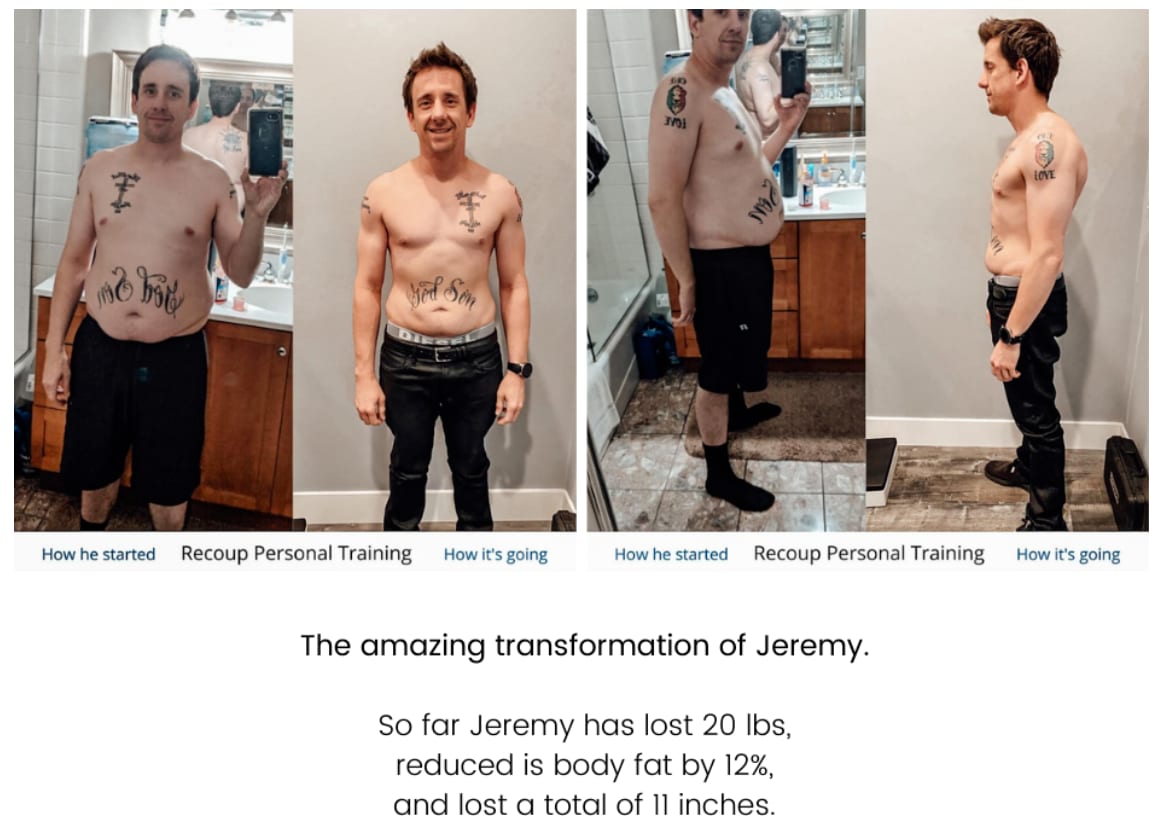 Amazing results we all can see from the outside… but we all know the biggest transformation is on the inside . ⠀
The inner strength this journey gives you. The confidence. And not only the confidence in the way you look but in how you live your life. ⠀
Here's what Jeremy had to say about is journey with us thus far!⠀
"I have been working out with Matt, Stevie and Bo now for almost 2 years now. I was initially motivated to start working out for a couple of reasons:⠀
• I work at least 10 hours a day sitting at my desk with little to no activity⠀
• I was eating out a lot and my shirts were starting to get tight. ⠀
• I just didn't feel good about how I looked.
I was a member of planet fitness for 2 years prior to my first meeting with Matt. I paid the bill every month and never went one time. I knew that I was only going to work out if it was scheduled and on my calendar. ⠀
I needed the accountability but I was also interested in learning about nutrition. I did the LIFE program with Stevie when I first began working out and I am doing it again now with Bo and Stevie. I've been with Recoup since day one and I have a personal sense of pride in the family and environment Matt, Stevie and Bo have created.
The sessions are awesome. I love working out with the other members. We're always having fun, laughing and joking; it makes the experience unlike anything you will find anywhere else. ⠀
To me, Recoup is not just a gym it is a lifestyle. The results I have seen have been amazing - Matt, Stevie and Bo have helped me to meet my initial goals and as I have seen results my goals have evolved as well. I am so motivated to keep pushing hard and am so thankful to my Recoup family." - Jeremy M.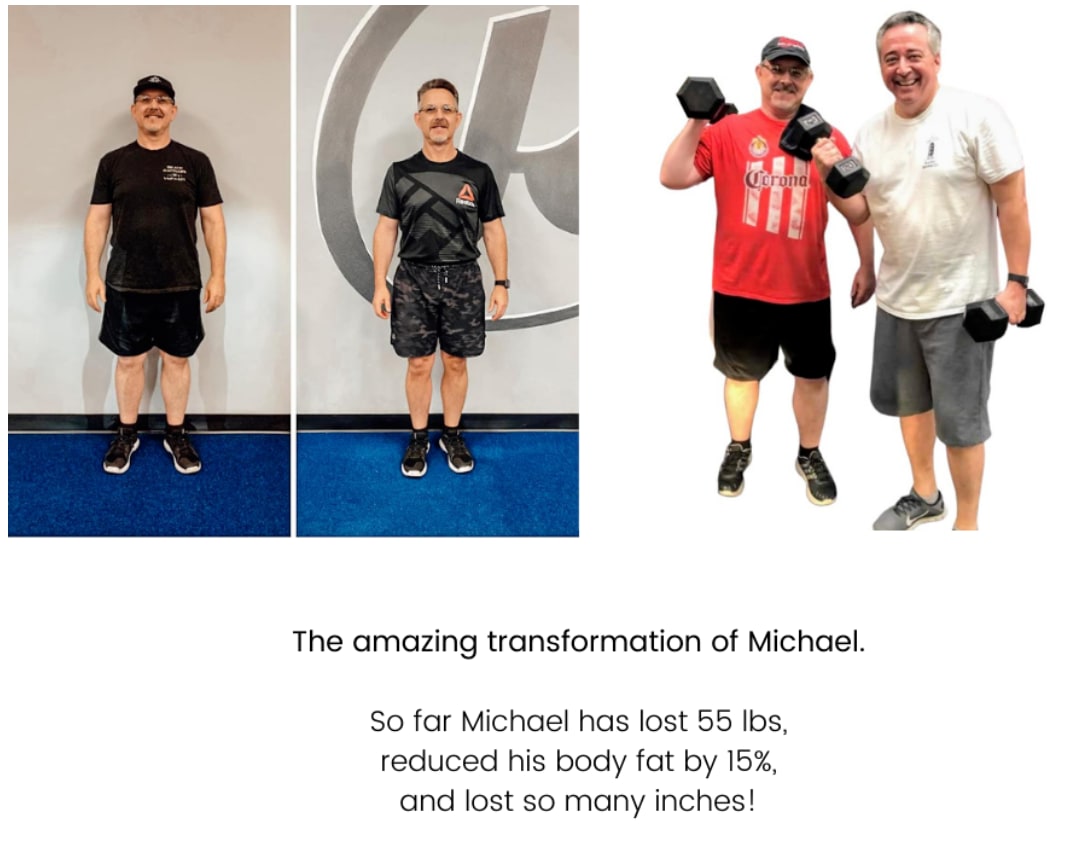 An amazing physical and mental transformation!
Here's what Michael has to say about his progress:
⠀
"The bad eating habits that had little impact on my weight (160 – 170 lbs) during my 20's and 30's, resulted in significant weight gain throughout my 40's.⠀
⠀
At 52 years old, I started my journey to get healthy again in March 2019 and weighed 228. I started working-out with a personal trainer 2-3 times/week, stopped eating fast food for breakfast and increased my protein intake. By the end of 2019, I lost 10 pounds and got stronger. I wasn't satisfied with my results over that 10-month period, so I switched to Recoup in January.⠀
⠀
In my first month, I participated in the 28-day KickStart nutrition program. I lost 14 pounds, 2.5 inches off my waist and an inch off my thighs and calves! This was the proof I needed to make permanent changes in my nutrition.⠀
⠀
When the KickStart was over, I continued their 8-week Dynamo program to take my nutrition to another level. The results were another 11 pounds lost, 2 more inches off my waist and an inch of fat off my biceps! ⠀
⠀
In 3 short months, I lost 25 pounds compared to only 10 pounds in 10 months with my previous trainer and gym. What a difference choosing the right gym and team makes! ⠀
⠀
At this point, I wanted to see how much further I could take this, so I continued to challenge myself with the support of Bo, Matt & Stevie. As of September 11 (less than 8 months into my 2020 weight loss) I reached the 40 pounds lost milestone bringing my total loss to 50 pounds and my body fat % is now down to 15% (from 27.8%)! ⠀
⠀
I couldn't be more pleased with the Recoup team! Their ongoing concern, deep knowledge and welcomed accountability has made this journey possible." - Michael⠀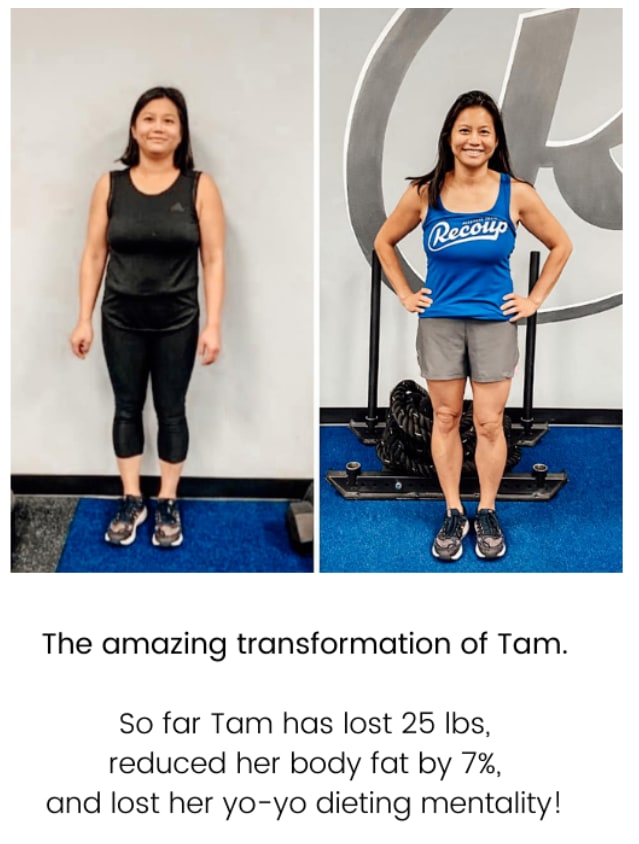 Down 20 lbs, reduced her bodyfat by 7% and lost her yo-yo dieting mentality!
Here's what Tam has to say about her transformation:
⠀
"Before joining Recoup's nutrition program, my yo-yo weight swings were crushing me. In the heat of a weight loss challenge, I could shed pounds but once the competition ended, I would gain the pounds back and become discouraged once again.⠀
⠀
That was before.⠀
⠀
Now, thanks to Recoup, I feel like I have finally broken that vicious cycle; no more yo-yo! In the past 7 months on the nutrition program, Stevie has helped me change and grow my mindset; develop sustainable, healthy eating and exercise habits; and stay accountable even when life gets bumpy! (And oh it's been bumpy with this pandemic!!)⠀
⠀
Thank you Stevie for keeping my health in check with your expertise, and keeping me motivated with your energy and positivity! I'm finally able to feel in control of my health, maintain my goal weight and even focus on new goals like building my strength and fitness level, which is incredible! I never thought I could get to this point!⠀
⠀
In addition to the nutrition program, I've trained with all three coaches at Recoup; Stevie, Bo and Matt are all amazing trainers and just incredible humans I am proud to know! I'm so happy and grateful to be a part of the Recoup family! I highly recommend you join the fun!" - Tam.⠀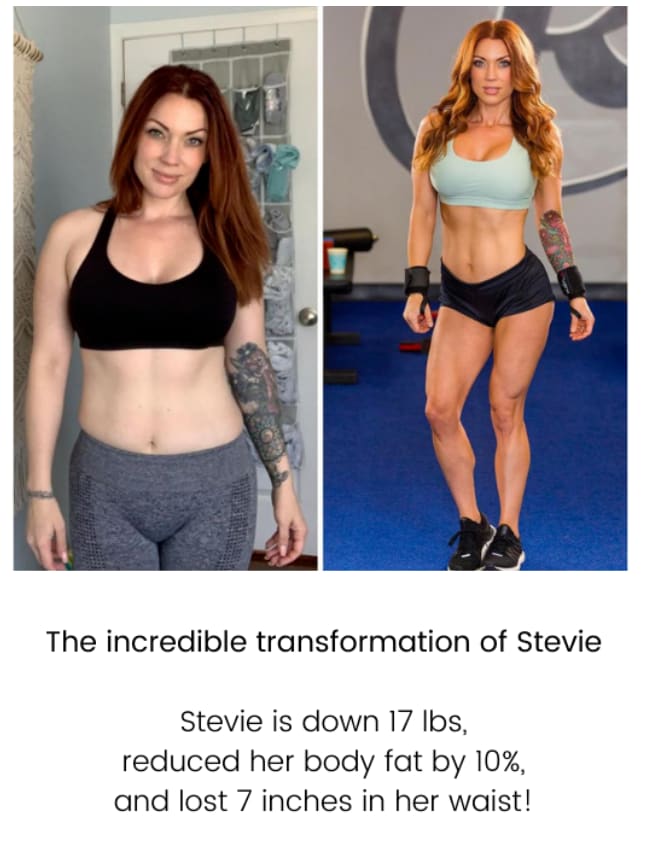 A 6 month transformation! We are so proud of our co-owner and coach Stevie and her journey!

By following our very own Balanced Habits LIFE nutrition program she lost 17 lbs, 10% body fat, 6.5 inches in her waist.

Read below about Stevie's experience in her own words:

"I began this particular health journey back in May. It was 6 months after I had my son and I had a different perspective of my body.

I was amazed by what a woman's body could do! To grow and birth a human was not only amazing, but miraculous! I mentally felt so powerful and I wanted my body to be a direct reflection of my mindset- strong and empowered.

So I set a date of November 22nd to meet this goal and scheduled a photo shoot to keep me accountable.

Each day I trained my body in a way that I never have - through a place of self love.

I started running because I enjoyed it. I ate proper foods to nourish, not deprive. I focused more on sleep, journaling and daily meditation. This past week I hit my goal and this picture is the culmination of this journey.

In the end I learned that it wasn't hitting the goal that gave me the most satisfaction, but in the past 6 months the daily rituals I built for myself that are now instilled. I have a new sense of self that's more compassionate, self loving and connected. This by far has been my favorite health journey!" - Stevie

----
You must be thinking....
Rabbit diets?….. Nope, healthy eating with family friendly recipes and no crash diets or low calorie plans.

Hours of cardio and strength training in the gym each day ? ….. Nope, just being consistent with her hour long workouts (like all of our clients do) and extra 2 - 3 mile runs with baby Cooper because she loves it.

Pills...? Nope, just hard work and following a proven plan.

Her sleep, energy and strength all improved - All HUGE wins in a time like this.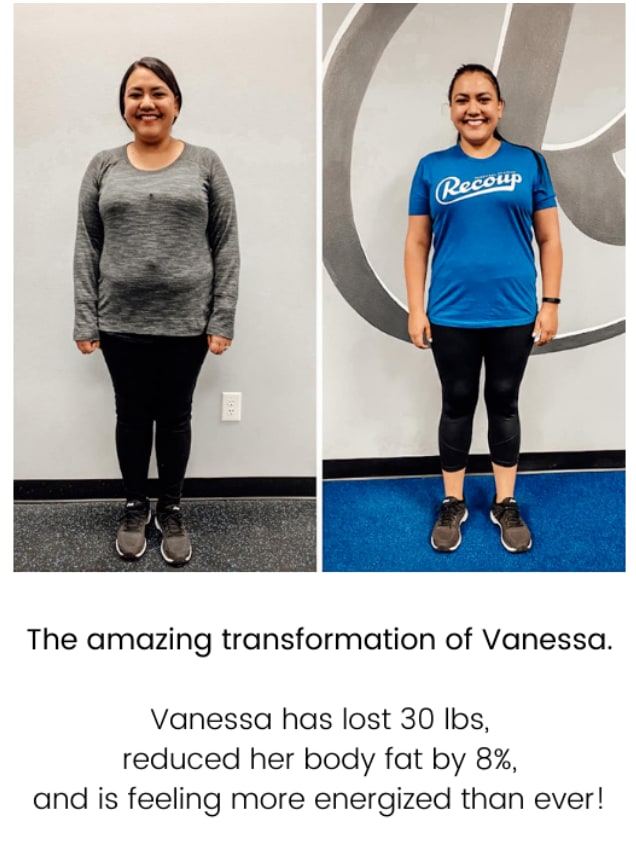 Down 30 lbs & 9% body fat! "2020" hasn't stopped Vanessa from working towards her fitness and health goals!
Here is what Vanessa has to say about her transformation journey:

"When I first started at RECOUP, I will admit I was nervous. I had tried to take control of my health in the past and it never stuck. I now realize what I was missing and that is the knowledge and support I get from the RECOUP team! ⠀
⠀
The coaches provided me the education needed to set me up for continued success on the nutrition plan. I am eating cleaner, more balanced meals. Since it is not a restrictive diet, it is sustainable and enjoyable! ⠀
⠀
Training in the studio with Matt and Bo has been something I have come to look forward to! I honestly never would have thought I would enjoy going to the gym. The individual attention I am given is just what I needed. They have taught me how to safely and effectively work out by showing me proper techniques. The virtual sessions with Stevi and Bo kick my butt and I love that I can tune into a recorded session whenever is convenient for me. ⠀
⠀
Another thing I love about RECOUP is the whole RECOUP family! They are the most supportive and caring group of people and are always there to cheer each other on, share tips and keep me accountable on my lifestyle goals! ⠀

I am so grateful for everyone here and I am excited to continue my journey. I am no longer TRYING to live a healthier lifestyle, I AM living a healthier lifestyle" - Vanessa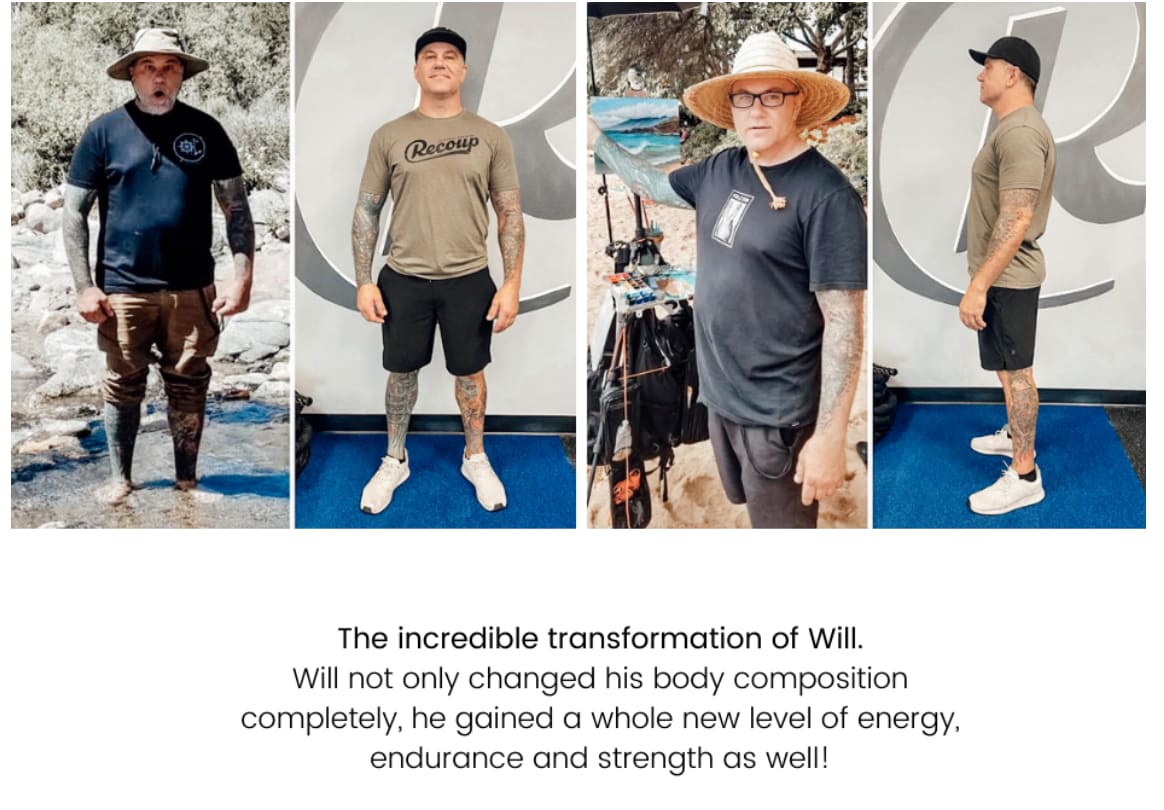 May 2019 —> September 2020. Will not only changed his body composition completely, he gained a whole new level of energy, endurance and strength as well! We couldn't be happier for him!⠀

"When I joined the gym I wanted to be healthier, stronger and look better. I knew that I had potential but could never reach it on my own. While taking into consideration everything like my age, previous injuries, and abilities, Matt makes training safe, fun and challenging. Recoup has not only changed my physical and mental shape, they have changed my direction in life for the better! I look forward to lifting when I wake up! Thank you Matt, Stevie, and Bo for your guidance!" - Will