Get fit and look & feel your best with our 4 week kickstart nutrition and fitness program! Starting September 16th
We're super excited that you're here and ready to commit to a healthier lifestyle! You too can lose weight, regain your energy, boost your confidence, and get in your best shape with our 4 week Nutrition and Fitness Program!

Even better, change your life and get it for free!
It's Simple. Lose 20 lbs or 5% Body Fat and join us for free*!
So if I lose 20lbs or 5% Body Fat, I get it free?
Why are you doing this?
Three reasons:
We are looking for local men and women to showcase some amazing transformations!
It's a trade. You get the body and health of your dreams and we get some amazing stories. It's a win-win!
We know that having a big incentive will hold you accountable.
Past KICKSTARTERS Have Seen Huge Results:

Our goal within 4 weeks is to get you on the right track with eating wholesome foods and exercising regularly. You will have the habits, strategies, and support to keep going for the rest of your life!

We Will Give You the Coaching + Tools to Change Your Body and Your Life...
...If You Are Ready
Do YOU:
Find typical gyms intimidating?
Need the motivation, accountability, and guidance from a team that can finally make you feel comfortable and "at home" in a fitness facility?
Want to regain long lost confidence that's been holding you back since work, kids, or just a general busy life that's taken over?
Want to feel comfortable in your clothes again?
Want to feel strong again and to feel like nothing can hold you back this time around?
Recoup Personal Training's Kickstart program in Costa Mesa provides "done-for-you", easy to follow, meal plans and family-friendly recipes to get you into a healthy routine FAST. Breakfast, lunch, dinner, snacks, we have it covered.
Your investment is only $239 (Early Bird Special) for everything.

Add personal training sessions for as low as $24.75 a session!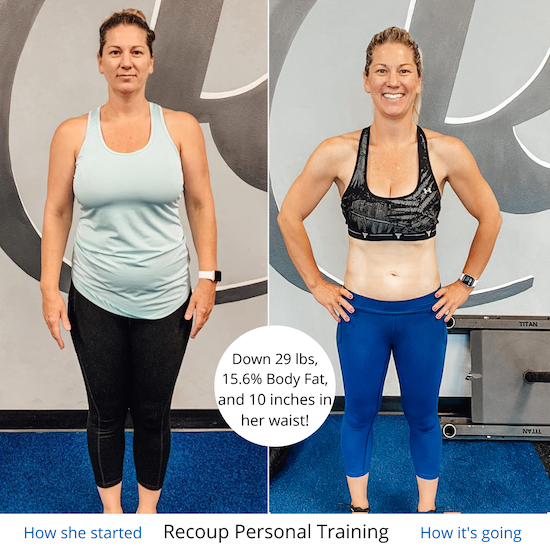 Personal Training sessions for as low as $24.75 a session!
People routinely lose on average 10-20lbs, lose inches, drop a pant-size or two, gain energy and find themselves inspired to keep going and strive for big health and fitness goals.. All in only 4 weeks.
Finally, An All-in-One Complete Plan that is Laser Focused on Fat Loss & Fitness for the Every Day Person!
Hundreds of clients have done it and now it's your turn. Get on board with us and get the body you want and deserve!
Kick Off Saturday, September 16th at 10:00 AM!
Let's Do This!
Let's Answer Your Questions!
1. The Kickstart nutrition plan including 4 weeks of easy, done-for-you meal plans. Get access to our app and have everything to be successful at your fingertips; from healthy & family friendly recipes and menus, to daily motivation, tips and challenges. We are making it SUPER SIMPLE to follow our plans, know what to eat and see your body change.
2. Weigh-ins, measurements, and accountability. We will hold you accountable to completing the program and you will be able to see the progress and changes you have made!
3. Unmatched support and guidance! Throughout the program our team and other Kick Start participants will be there to support and motivate you. Through the in-person weekly check ins, boot camps, and our private Kick Start forum you are only seconds away from the support you need to succeed.
4. Cardio opportunities. You will have every day access to our cardio area. You can add extra semi-private training sessions to your program as well to really accelerate your results! These are an hour long together with one of our trainers only for $24.74 (that's more than 50% off the regular rate).
5. Prizes + Cash Back Rewards: Lose 20lbs or 5% Body Fat and get 100% reimbursed.*
Initial check-ins are Monday, September 11th and Tuesday, September 12th from 7:00am and 6:30pm.
Official Kick off and Orientation is Saturday, September 16th from 10:00am to 11:00am.
Finale is Saturday, October 14th.
No problem. We would love to see you commit 100% during the Kickstart program and be around for the entirety, but we realize this isn't always realistic. We can coach you through your travels.
Regarding the prizes at the finale, you must be in attendance to win. We want to celebrate you!
If you wish to add extra personal training sessions, there is an option to add sessions for as low as $24.75! Our semi-private personal training is focused, comfortable and fun with only 3-5 people per session with your trainer. After years, we have found a combo of private and group to be perfect blend of personal attention, fun, community, support and accountability. These are an hour long sessions.
5:30am to 7:30pm Mon,Wed & Fri
5:30am to 8:00pm Tues & Thur
6:30am to 10:30am Sat
We would love to have you! Many of our Kickstart Program participants become full time clients after they go through our proven systems and see great results. During the final event, you will have an exclusive invite and offer to join our studio full time.
We focus on eating real food. We will give you a personalized 4 Week nutrition plan that is fat burning focused and family friendly. It includes easy to follow recipes, grocery lists, substitutions, and more. Even if you have done the program before, you will be happy to see a brand new nutrition plan, new weekly challenges and new recipes too.
* To be eligible for your refund, you must allow us to use your story and photos as a testimonial. KICKSTART participants and/or customers who have previously signed up or were credited a KICKSTART program are ineligible for promotions as advertised by Recoup Personal Training.
Join Now!


Start Getting Results